Anthony Napolitano Achieves Legend Rank At iGenius
July 13, 2021
By Team Business For Home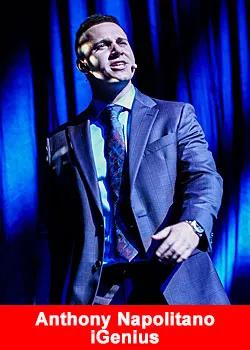 Anthony Napolitano, 26 years old, is from Port Saint Lucie, Florida, USA. He joined the network marketing industry when he was only 18 years old while he was a full-time college athlete pursuing his baseball career.
When Anthony decided to join network marketing, he had to learn everything from scratch. He said,
"Before this profession I never even had a real job. Everything about network marketing was new to me. Luckily, I came into the industry understanding that it would take time. I was committed to the process, and knew I had to be patient and persevere to achieve my goals."
Anthony has now been full time in the industry for eight years. Throughout his career, Anthony has achieved some very prestigious awards and recognition.
Anthony was the youngest person inducted into Eric Worre's Million Dollar Hall of Fame. Not only that, but Anthony is also in the Business for Home Hall of Fame. These accomplishments demonstrate Anthony's work ethic, commitment, and drive to be an industry leader.
Anthony's latest achievement was becoming the first person to hit the rank of Legend with iGenius. 
iGenius offers financial education, research, opportunities, and tools that empower individuals to participate in the crypto, equity, and forex markets.
Achieving the rank of Legend with iGenius requires extraordinary leadership, mentorship, hard work, time, and energy. Anthony said,
"iGenius officially launched a few days ago after a pre-launch phase that started in January this year. I'm extremely excited for the world to see what we have going on here and how our services can positively impact the lives of individuals all around the world!"
iGenius President, Chad Garner said,
"Anthony is a tremendous representation of what iGenius can do for individuals that are willing to work hard, be disciplined, and remain humble. He truly is a product of the products and leads his teams by example. I appreciate his partnership and enjoy watching him create his legacy."
Anthony is setting an example for the entire iGenius community. He lives by the quote, "Most people will not give things enough time to become truly great!" Because Anthony understands the industry, understands that it takes patience, and respects the process, he is looked up to by his peers.  Anthony exemplifies true leadership. He puts in the work required to achieve great success.
About iGenius
iGenius helps members amplify their quality of life by providing leading edge financial tools, education, and opportunities.
iGenius can help you take control of your future and start living brilliantly. For more information about iGenius, visit: www.igeniuslglobal.com.
iGenius LLC is a wholly owned subsidiary of Investview Inc., (OTCQB:INVU), a public company. For more information on Investview and the ability to participate in Investview's growth, please visit investview.com or email [email protected]
Recommended Distributors iGenius