Rain International Opening In Ghana
July 16, 2021
By Team Business For Home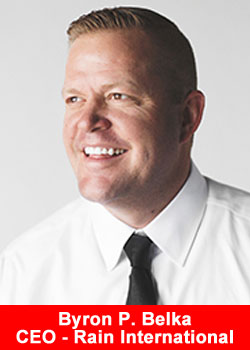 It's always exciting to watch companies succeed and grow. It's even more gratifying to watch companies do well in the wake of such uncertain times. It not only provides hope for the future, but a pillar of strength in the present. One such company that has been able to do exactly this, moving forward with purpose, expanding with speed and steam, is Rain International. 
 And now, Rain International is announcing the pre-launch of a brand new market, occurring on July 14th, 2021: Ghana, Africa. This pre-launch comes with plans to set a solid foundation, leading to an all-out launch in the upcoming months. When speaking with Rain's CEO Byron Belka about this impressive announcement, he said:
"We're amazed, but not surprised, that we were able to open Ghana as Rain's newest market. We have an incredible pool of leaders and partners that have put us in a prime position, as well as a powerful product that's needed.

That's made all the difference in opening a budding market like Ghana. We're excited to see what this market does with our products and our opportunity."
 The current population of Ghana is about 31 million, and is a prime market indeed. One whose need for Rain's products is high, and excitement for network marketing is higher. Russ Cowley, Rain's Vice President, said this about the announcement:
 We've always said that Rain is recession-proof, and now we know that that statement is completely true. To bring a product and a company like Rain to a country like Ghana is almost a dream.

We think they're ready for us, for the opportunity we provide, and for the products we produce. It's going to be amazing to watch what happens as soon as we open the floodgates."
Rain International has continued to expand throughout the globe since its opening in 2011. This growth hasn't seemed to slow. They attribute much of growth to their scientifically-backed, seed-based products, amazing leaders and parters, whose testimonials, work ethic, and leadership create growth and expansion, as well as their steady expansion model.  
We'll stay plugged in, track their progress, and follow up once Ghana is in full launch mode. Good luck to Rain, and to the future partners that will surely be created in this expansion.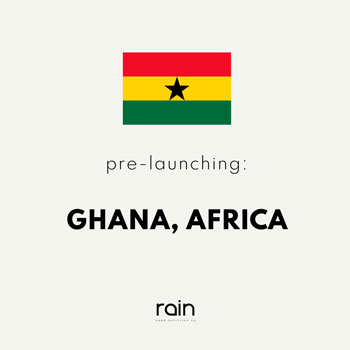 About Rain International
Rain International is the original creator of seed-based nutrition. Our experts have gone to the source of plant nutrition to formulate products proven to support healthy lives. Rain International is more than the products we sell.
From the beginning, we set out to make changes to improve the world around us starting with the health industry and moving beyond its borders into global sustainability, education initiatives, elevated lifestyles, and more. We believe that the ultimate human experience we all crave is within everyone's reach, and we don't mind leading the way. For more info please visit www.rainintl.com.
Recommended Distributors Rain International