Rob and Summer Smollack Achieve Elite Pro 8 Rank At LifeVantage
July 22, 2021
By Team Business For Home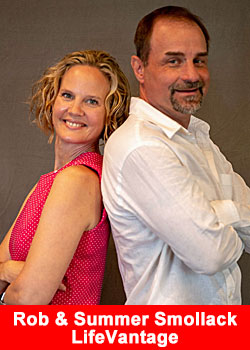 Inspiring hundreds of Distributors with their success story, Rob and Summer Smollack recently ranked up to Elite Pro 8 and Elite Pro 7 with LifeVantage.
Several years ago, after wrenching personal losses, Rob and Summer were individually searching for change. Both were dedicated workers who spent most of their time traveling, but when they met at a mutual friend's wedding, they knew they needed something different to create the life they'd both dreamed about. They were each coming from painful divorces, and their relationship brought a renewed commitment to invest in each other.
When they found their busy schedules made their relationship—and their hope of starting a family—difficult, they decided to reevaluate their careers and build something together. Rob had started several companies, and Summer was a successful medical sales rep who had often worked multiple jobs at once. When Rob started talking about LifeVantage, Summer was wary.
"I researched everything behind his back," she says. "I wanted to make sure this was a good thing. But then I came to him and told him I was ready to go for it. The opportunity blew my mind."
Bolstered by their shared vision, they honed their skills and built a network that allowed Summer, who had been working since age 12, to leave her medical sales career after only 22 months with LifeVantage.* Rob streamlined his companies to decrease the demands on his time so he could also give 100%. Together, they also pursued fertility treatments and welcomed a baby girl into their family. Meanwhile, they poured their skills and passion into their work.
"It's all about the heart and connecting with people emotionally, not just the numbers and figures for them to look at," Rob says. "We never missed a training, we did what we said we were going to do, and we stayed consistent even when we didn't want to."
This dedication stems from their belief in all LifeVantage has to offer consumers, as well as the lifestyle benefits the company offers Distributors.
"This is the greatest gift we could give anybody! Health and wellness, and financial benefit—we share and care and give them options because it's the only thing I've ever seen that has something for everyone," Summer says.
For example, one of their team members was a man who had recently been released from incarceration. "We called him every day," Rob says. "He was able to get his son back, he's now married, and he is successful. When people need your help, you can't turn your back on that."
Over the past three years, Rob and Summer have taken their knowledge and passion on the road in order to reach more people—and they bring their daughter. "We've never been separated from her," Rob says. In addition to taking their family on overseas adventures, the Smollack family spends much of their time driving from state to state, giving presentations and talking to people who are interested in LifeVantage.
"We've given up many of the activities that don't build the business," the Smollacks say. "We love traveling and being with our little girl, and we can do that while we build our business."
Rob and Summer felt they were getting close to ranking up—and they actually hit their goal sooner than they'd anticipated—but they say it's not about frenzied sales. Instead, their success stems from consistency and giving their all to their work. "Nobody outworks us in this industry," Rob says.
"We did 1,128 presentations in the past 90 days—just the two of us." And they're inspiring others to hit their own goals as well as: all but one of their team members who accepted the challenge to rank up hit their goals. All 197 of them.
As Rob and Summer continue to work and grow their business, they are grateful for the way success has freed them up to live so differently now. "I live in a fairytale," Summer says. Rob adds,
"The tens of thousands of lives that have been impacted because we said yes is turning into a tidal wave of hope, purpose, fulfillment, dreams come true. We're empowering people to take control of their own lives."
About LifeVantage
LifeVantage Corporation (Nasdaq: LFVN) is a pioneer in Nutrigenomics – a new science dedicated to biohacking the human aging code.
The Company engages in the identification, research, development, and distribution of advanced nutrigenomic dietary supplements and skin and hair care products, including its scientifically-validated Protandim® product line, Omega+ and ProBio dietary supplements, its TrueScience® line of Nrf2-infused skin and hair care products, Petandim™ for Dogs, Axio® energy drink mixes, and the PhysIQ™ weight management system. LifeVantage was founded in 2003 and is headquartered in Salt Lake City, Utah. For more information, visit www.lifevantage.com.
*Distributor success depends on individual diligence, work effort, and market conditions. LifeVantage does not guarantee any income or rank success. For the company's Average Annual Earnings Disclosure by rank, visit lifevantage.com.
Recommended Distributors LifeVantage