ByDzyne's Marketing Team Wins dotCOMM's Gold Award
August 19, 2021
By Team Business For Home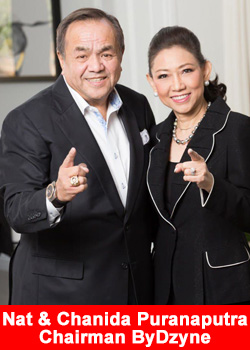 ByDzyne has continued its remarkable 2021 trophy run, this time bringing home dotCOMM's prestigious Gold Award for the company's digital marketing and communication excellence in Brand Awareness.
The dotCOMM Awards, an international competition that honors quality and distinction in web creativity, digital communication, unique design, and customer engagement, received over 2,500 entries this year from the U.S., Canada, and several international countries.
Submissions arrived in all forms, from public relation firms to corporate communication departments, and were judged by professionals from the Association of Marketing and Communications Professionals (AMCP), one of the oldest, largest, and highly-regarded evaluators of creative work in the world.
Since its inception in 1994, the AMCP has administered some of the world's most renowned creative competitions and has reviewed over 200,000 entries from more than 100 countries.
ByDzyne shares the Gold Award winner's circle this year with other high-profile organizations including AARP, Adobe, National Association of REALTORS®, Rakuten Inc., and Vonage.
"We are so honored to receive this dotCOMM Gold Award. When ByDzyne was founded two years ago, our goal was to connect with people on every front.

This award indicates that we have made huge strides in doing just that, and all the credit goes to our marketing team and their relentless efforts in helping showcase and effectively communicate our brand, our vision, and our one-of-a-kind opportunity,"
shared Chanida Puranaputra, chairwoman of ByDzyne.
The efforts have had to be persistent, as ByDzyne's marketing team have expectantly had their hands full this year. The company has not only dived into a plethora of new international markets, including opportunistic Spain and the Philippines, but ByDzyne has also recently launched several new lucrative opportunities—most notably the arrival of the prominent Epione Flawless serum and BD Dream Vacations, the company's elite travel subscription service.
The achievement also signifies to Brand Ambassadors, prospective clients, competitors, and entrepreneurs worldwide that ByDzyne's digital communication is among the best in the industry.
With the company's commitment to directly connect with its customers' emotional and real needs, ByDzyne is proving that they are the industry standard for effective digital communication, strategic branding, and bridging the gap between customer and opportunity.
El equipo de marketing de ByDzyne gana el premio de oro de dotCOMM
ByDzyne ha continuado su notable racha de trofeos 2021, esta vez llevándose a casa el prestigioso Premio de Oro de dotCOMM por la excelencia en marketing y comunicación digital de la empresa en Conciencia de Marca.
Los premios dotCOMM, un concurso internacional que premia la calidad y la distinción en la creatividad web, la comunicación digital, el diseño único y el compromiso con el cliente, recibieron este año más de 2.500 candidaturas procedentes de Estados Unidos, Canadá y varios países internacionales.
Las candidaturas llegaron de todas las formas, desde empresas de relaciones públicas hasta departamentos de comunicación corporativa, y fueron juzgadas por profesionales de la Asociación de Profesionales del Marketing y la Comunicación (AMCP), una de las más antiguas, grandes y prestigiosas evaluadoras de trabajos creativos del mundo. Desde su creación en 1994, la AMCP ha administrado algunos de los concursos creativos más renombrados del mundo y ha revisado más de 200.000 trabajos de más de 100 países.
ByDzyne comparte el círculo de ganadores del Premio de Oro de este año con otras organizaciones de alto perfil como AARP, Adobe, National Association of REALTORS®, Rakuten Inc. y Vonage.
"Nos sentimos muy honrados de recibir este premio dotCOMM Gold Award. Cuando se fundó ByDzyne hace dos años, nuestro objetivo era conectar con la gente en todos los frentes.

Este premio indica que hemos hecho grandes progresos en ese sentido, y todo el mérito es de nuestro equipo de marketing y de sus incesantes esfuerzos por ayudar a mostrar y comunicar eficazmente nuestra marca, nuestra visión y nuestra oportunidad única",
compartió Chanida Puranaputra, presidenta de ByDzyne.
Los esfuerzos han tenido que ser persistentes, ya que el equipo de marketing de ByDzyne ha estado muy ocupado este año. La empresa no sólo se ha sumergido en una plétora de nuevos mercados internacionales, como los oportunos España y Filipinas, sino que ByDzyne también ha lanzado recientemente varias oportunidades lucrativas, sobre todo la llegada del destacado suero Epione Flawless y de BD Dream Vacations, el servicio de suscripción de viajes de élite de la empresa.
Este logro también significa para los embajadores de marca, los posibles clientes, los competidores y los empresarios de todo el mundo que la comunicación digital de ByDzyne está entre las mejores del sector.
Con el compromiso de la empresa de conectar directamente con las necesidades emocionales y reales de sus clientes, ByDzyne está demostrando que es el estándar del sector en cuanto a comunicación digital eficaz, creación de marcas estratégicas y cierre de la brecha entre el cliente y la oportunidad.
Recommended Distributors ByDzyne