Network Marketing Professional Christina McCulley Joins QuiAri
August 25, 2021
By Team Business For Home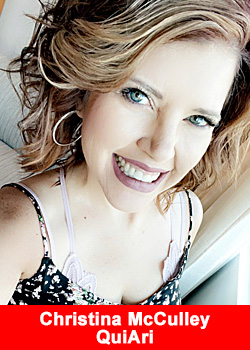 Living in a small town in North Florida, USA, didn't stop Christina McCulley from dreaming big. If she hadn't discovered the Network Marketing industry, her lifestyle would be much different than it is today.
"Where I live there is only one stoplight and a single dollar store. Opportunities are very limited. I'm married with 3 kids. I used to not even have a savings account. All I had was ambition.

Network Marketing provided me with everything I wanted out of life – financial freedom, time freedom, and long-lasting friendships. It didn't always come easy, though.  I've learned from experience that choosing the right opportunity, and company, is the first and most important, step. That's what led me to QuiAri,"
stated Christina McCulley.
Christina said something "just felt right" about the company and leadership team. She knew that, on paper, QuiAri has a lot to offer – the fastest paying compensation plan in the industry – 5 minutes, the first to introduce the Maqui Berry (the new #1 superfruit) to the international marketplace, an executive team with over 150 years of MLM experience, world-class marketing, and more. However, she really wanted to learn more about the culture at QuiAri to make sure it was the right fit for her needs.
"I'm a very spiritual person and I immediately felt connected to QuiAri even before I joined. I was introduced by Hero Promoter Sabra McCraw. You won't meet a bigger cheerleader for QuiAri, and I totally get it.

When you join QuiAri, you're joining a global family. We all have big dreams, but we also have big hearts. When you meet somebody who has struggled all their life to get healthy and then suddenly see them lose weight, have more energy, look, and feel younger – all with the help of products you introduced them to…it's just an amazing feeling,"
said Christina McCulley.
 Christina has already changed many lives, and as a result, climbed to the high rank of Super Star in just 4 weeks. She is a product-of-the-product and is grateful to have discovered QuiAri products.
"I wasn't looking to lose weight; I was actually just hoping for better nutrition – and I got way more than I bargained for. The chocolate shake tastes just like a Frosty from Wendy's.

The vanilla was good, too, but what surprised me most was the Energy tablet. I nicknamed it my 'Purple Pal.' There's no jitters, no crash, and it makes me happy and motivated. I'm literally obsessed with these products and how they make me feel."
Her excitement is contagious. She has Promoters all over the world that are sharing QuiAri with everyone they know. Christina and her team would all like to reach the top rank of "Purple Diamond" at QuiAri within the next 5 years. They plan to do this by helping each other succeed, and by using QuiAri's new Free Tour Marketing System, which launches on September 1, 2021.
"QuiAri's Founder and CEO, Bob Reina, is beyond generous. The Free Tour is a game-changer and will help us build our teams 24/7, 365 days a year. It's going to include a business opportunity presentation, delivered by Bob, that teaches others all about the benefits of QuiAri.

I've never seen anything like it, and neither has anyone in the industry. This is the first system ever created that delivers your results in real-time."
 There's no doubt that QuiAri is preparing for long-term success. They have ambitious plans to create the most success stories in the industry. Christina is doing her part to help make that happen.
"We need to stay humble and focused on our mission and I'm certain we'll see explosive growth. QuiAri is still a very young company and its resources rival some of the largest in the industry.

I can't imagine what this company will look like 5 years from now. There is unlimited potential for growth for the company and for all Promoters. I've always dreamed of changing the world, but never really had the opportunity. I don't know what the future holds, but I do know it's going to be very exciting,"
stated Christina McCulley.
About QuiAri
QuiAri is the #1 health and weight loss movement in the world today. Featuring exclusive, breakthrough products (QuiAri Shake and QuiAri Energy) featuring the world's new #1 superfruit, the Maqui berry, people everywhere are losing weight, boosting their energy levels, and improving their health. What started as an idea has now become a worldwide phenomenon, gaining a passionate following in over 200 countries.
But that's not all! We boast an exciting opportunity to promote QuiAri products and earn commissions within 5 minutes after each sale through industry-first, state-of-the-art payment technology. Combining unrivaled products with the fastest payout, the fastest cycling binary, and one of the highest paying compensation plans in the industry, there's no doubt QuiAri is helping people live healthier, happier lives. To learn more, please visit quiari.com.
These statements have not been evaluated by the Food and Drug Administration. These products are not intended to diagnose, treat, cure or prevent any disease.
Income Disclosure Statement
Please note the QuiAri business opportunity offers unlimited income potential. However, QuiAri makes no guarantee of financial success. Success with QuiAri results only from successful sales efforts, which require hard work, diligence, skill, persistence.
These statements have not been evaluated by the Food and Drug Administration. These products are not intended to diagnose, treat, cure, or prevent any disease.
Recommended Distributors QuiAri