QuiAri Launching World's First Real-Time Free Tour Marketing System
August 11, 2021
By Team Business For Home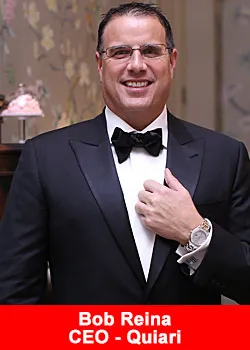 QuiAri is having another big year – and it's about to get even bigger.
On September 1, 2021, Founder and CEO, Bob Reina, is launching the world's first real-time Free Tour Marketing System. This isn't the first time QuiAri has made MLM history. Bob is the type of leader that only believes in taking giant leaps forward without looking back. In under 2 years, Promoters and Customers have benefited from QuiAri's truly unique business model.
First to introduce Maqui, the new #1 superfruit, to the international market
Youngest company to launch in over 200 countries around the globe
One of the most generous Compensation Plans, and the first health and wellness company to pay commissions in less than 5 minutes.
First to develop a proprietary extract, MaquiX®, that boosts the antioxidant power of Maqui up to 10x
"My dream has always been to help others succeed. This industry has given me so much – time freedom, financial freedom, a legacy to leave my children…doesn't everybody deserve that same opportunity? Of course, the answer is yes.

The Free Tour is another way I'm delivering on my promise. A Prospect can secure their place in the genealogy before committing to becoming a Promoter. The truth is – our breakthrough products, once-in-a-lifetime opportunity, and rock-solid infrastructure speaks for itself,"
stated Founder and CEO, Bob Reina.
The "purple wave," as Promoters and Customers affectionately call it, has been impossible to miss. QuiAri, no doubt, has the momentum every industry-leading company desires – loyal, passionate Promoters and Customers, global shipping to over 200 countries and counting, and offices located all over the world.
QuiAri Promoters unanimously agree that the Free Marketing Tour only adds more value to a company that is infamous for over-delivering.
"I've been in the business for over a decade, and honestly I was shocked. Promoters receive so many useful tools to build their business: A 10.4.2 Launch Plan written by Bob, a free, state-of-the-art mobile app, live Opportunity Presentations hosted by top QuiAri leaders, weekly training from Bob, an abundance of recognition at all levels, world-class marketing, and now this Free Tour, which basically helps us manage Prospects. It's above and beyond, yet QuiAri's Corporate team are so kind and humble,"
said QuiAri Hero Promoter, Sabra McCraw.
 Available on mobile and desktop, the Free Tour Marketing System will give Promoters access to over 40 professionally designed lead-capture pages available 24/7. Once a Prospect fills in their contact information, the system will automatically show them a pre-recorded opportunity presentation and follows up with a series of email Autoresponders encouraging them to join the Promoter's business.
Considering QuiAri's rapid growth, every minute matters. Prospects can easily choose to upgrade to Promoter and have the opportunity to earn commissions from those who have joined after them. QuiAri's Director of Field Development, Brad Stewart, said that the excitement coming from the field has been electric.
"The most highly anticipated new feature of the Free Tour Marketing System is the pre-recorded Business Opportunity Presentation delivered by none other than our Founder and CEO, Bob Reina. He is a masterful presenter and a great leader. If anyone can inspire people to take massive action, it's definitely Bob,"
said Director of Field Development, Brad Stewart.
 All eyes will be on QuiAri for launch day, September 1st, 2021, as the first real-time Free Tour Marketing System debuts. Many Prospects are choosing not to wait and securing their position now so they can hit the ground running once it's released.
"The Free Tour Marketing System is one of the keys to us becoming the next multi-billion-dollar company. We're growing very fast. Once the Free Tour launches, we're going to see masses of people achieving our top ranks. This isn't just a new tool for Promoters to use, it's a turning point in our company history. I'm really excited,"
said Bob Reina.
About QuiAri
QuiAri is the #1 health and weight loss movement in the world today. Featuring exclusive, breakthrough products (QuiAri Shake and QuiAri Energy) featuring the world's new #1 superfruit, the Maqui berry, people everywhere are losing weight, boosting their energy levels, and improving their health. What started as an idea has now become a worldwide phenomenon, gaining a passionate following in over 200 countries.
But that's not all! We boast an exciting opportunity to promote QuiAri products and earn commissions within 5 minutes after each sale through industry-first, state-of-the-art payment technology. Combining unrivaled products with the fastest payout, the fastest cycling binary, and one of the highest paying compensation plans in the industry, there's no doubt QuiAri is helping people live healthier, happier lives. To learn more, please visit quiari.com.
These statements have not been evaluated by the Food and Drug Administration. These products are not intended to diagnose, treat, cure or prevent any disease.
Income Disclosure Statement
Please note the QuiAri business opportunity offers unlimited income potential. However, QuiAri makes no guarantee of financial success. Success with QuiAri results only from successful sales efforts, which require hard work, diligence, skill, persistence.
Recommended Distributors QuiAri