Yukiko Tamura From Japan Achieves Double President Millionaire Rank At Vyvo
August 19, 2021
By Team Business For Home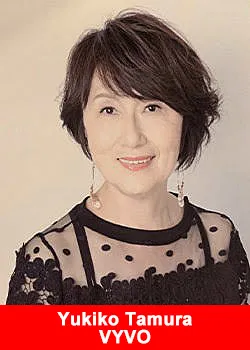 A remarkable drive characterizes the efforts of leadership in Vyvo.
A perfect example of the forces behind the history-making successes coming from Japan is personified by leaders like Yukiko Tamura who has achieved an elite rank of Double President Millionaire.
Over the past few months, Mrs. Tamura's achievements and results have elevated her to be part of building the future. She has asserted her place among the vanguard of health and wellness technologies and their applications to create better health outcomes for all Members.
Mrs. Tamura's fervent belief that new technologies should always aim to benefit people directly found that Vyvo's inimitable Digital Health Sharing Economy served as an actual demonstration of how Vyvo is setting the pace in digital health.
In Mrs. Tamura's words,
"I'm happy to have encountered this company in my life. I was able to achieve Double President Millionaire as my passion towards Vyvo was empowered by all the support from the Members of my upline, my group, and the Vyvo Community at large.

We are right at the opening of the door of Phase 3, and I can't wait to see what is going to happen next for the Vyvo's development."
Vyvo is so proud of her dedication to her dreams and to her team and is a company that always puts their business Members first.
As Vyvo's momentum sees growth and expansion through the success stories of passionate Members like Mrs. Tamura, its mission centered on creating tangible, self-sustaining, and enjoyable opportunities solidify into concrete life experiences. Those experiences are the epitome of their tagline of "Making Life Wonderful."
About Vyvo Inc.
Vyvo is on a mission that has created a lucrative home-based tech opportunity empowering millions of people worldwide to maximize online revenue focused on precision health, prosperity, and economic well-being. Members are continuously rewarded for wearing their Vyvo LifeWatch while effortlessly contributing their biodata anonymously to a unique Global Health Fintech Platform, enabled by patented Life Sensing Technology™ and secured by blockchain technology.
Vyvo is a Silicon Valley-based technology company that creates sophisticated wearable technology – proven leaders in innovation with devices that protects, monitors, and empowers people who seek an overall enhanced lifestyle. Vyvo's technology-driven mission has inspired the first self-funded Digital Health Sharing Economy where everyone can prosper. For more information, please visit Vyvo.com and join Vyvo's Facebook Community.