MLM Leader Sihad Salahaddin From Iraq Joins QuiAri
September 23, 2021
By Team Business For Home
Sihad Salahaddin, who lives and works in Iraq, is well aware of the massive opportunity and has plans to help the 41+ million residents by introducing them to QuiAri.
"The Relationship Marketing Industry is alive and well in Iraq. I have been in the industry since 2006. At the time, I was drowning in debt – over a million dollars. I was able to pay back every single penny thanks to Network Marketing and I built a team of over 6,000 people.

I recently joined QuiAri because the people of Iraq need a strong, reliable company with products and an opportunity that can help ordinary people accomplish extraordinary goals. The same principle is true for many countries around the world, and I plan to help them as well,"
stated Sihad Salahaddin.  
While helping others, Sihad is also pursuing his own dreams and goals. Like most people in Network Marketing, time and money freedom are very important to him, and he has plenty of flexibility at QuiAri. He also wants to create a legacy his family will be proud of for years to come.
"I sincerely believe that QuiAri will be one of the top 5 companies in the industry in the next 5 years. QuiAri products are already available in 200+ countries around the world.

The fact that a Promoter in Iraq, or anywhere QuiAri products are sold, with no business experience can immediately tap into a global market with potentially billions of people is exciting, Also, QuiAri has become famous for the speed at which they pay commissions. People that work hard are rewarded immediately here.

As one of the first Promoters from Iraq, I want to be the success story all Promoters talk about when sharing QuiAri with Prospects."
According to Sihad, the products do most of the talking anyway. They contain the new #1 superfruit, Maqui, as well as 24 essential vitamins and minerals, protein, an exclusive Greens blend, and the most antioxidant power of any previously known superfruit.
"I haven't gone a day without my delicious shake. I was previously in a health and wellness MLM. These products are incomparable to anything I've ever tried. Both the chocolate and vanilla taste amazing, plus you don't have to wait months for results. You can start feeling them right away."
Having a passion for QuiAri products is fueling the growth of Sihad's QuiAri business. He loves having strong leadership and guidance from QuiAri Founder and CEO, Bob Reina.
"Bob is a down-to-Earth leader that is 100% committed to his mission of changing lives around the world. I have a lot of respect for his determination and drive. Bob is the only owner of QuiAri.

He doesn't answer to a Board of Directors, which helps QuiAri move at speeds I've never seen before. He dreams up a new resource and then before you know it, his in-house team of experts brings it to life. The new Free Tour Marketing System is his latest creation that's revolutionizing the industry," said Sihad Silhaddin.
 Just weeks ago, QuiAri released the world's first real-time Free Tour Marketing System. This is designed to help QuiAri Promoters grow their business 24/7, 365 days a year. There are links to over 40 landing pages available that can be sent to potential Prospects. Once a Promoter fills out the information on the landing page, they are directed to a pre-recorded business opportunity presentation, hosted by Bob Reina himself, that explains everything about QuiAri.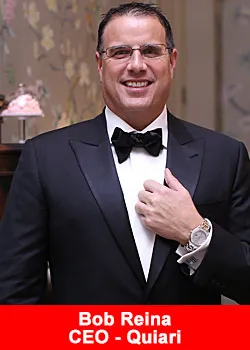 They are also provided with a temporary position in QuiAri's genealogy while they are thinking it over. If they choose to join, they can potentially start earning commissions right away. Many QuiAri Promoters around the world have said that the Free Tour is an added benefit to helping them build a successful QuiAri business.
"QuiAri has one of the most lucrative Compensation Plans in the industry. The speed in which QuiAri pays commissions rivals anything I've ever seen in Iraq. Joining as a Promoter or Customer can be accomplished in just minutes and products ship out right away. I've also been impressed with the number of resources dedicated to training Promoters with no experience in the MLM industry.
QuiAri just released the Super Star Guide, which is a detailed step-by-step training manual that puts Promoters on the right path to achieving one of QuiAri's highest ranks. Bob often reminds us that our dreams can't afford to wait, but this is where he differs from other business owners. He provides us with solutions that actually help us achieve our goals." 
Within QuiAri's Promoter Portal are training guides, videos, social media content, Free Marketing Tour links, FAQs, and more – all translated in multiple languages and accessible 24/7, 365 days a year. This is all in addition to live help from a world-class, in-house Technical and Customer Support Team.
"As all of our Promoters and Customers know, our global expansion strategy is very aggressive. When we enter a new market or expand our presence in an existing market, we don't hold anything back.

I'm excited about the opportunity to help the people of Iraq. Everyone deserves better health and a chance to achieve their dream lifestyle. The more people we have working towards our mission to change lives, the better."
said Founder and CEO, Bob Reina.
About QuiAri
QuiAri is the #1 health and weight loss movement in the world today. Featuring exclusive, breakthrough products (QuiAri Shake and QuiAri Energy) featuring the world's new #1 superfruit, the Maqui berry, people everywhere are losing weight, boosting their energy levels, and improving their health. What started as an idea has now become a worldwide phenomenon, gaining a passionate following in over 200 countries.
But that's not all! We boast an exciting opportunity to promote QuiAri products and earn commissions within 5 minutes after each sale through industry-first, state-of-the-art payment technology. Combining unrivaled products with the fastest payout, the fastest cycling binary, and one of the highest paying compensation plans in the industry, there's no doubt QuiAri is helping people live healthier, happier lives. To learn more, please visit quiari.com.
These statements have not been evaluated by the Food and Drug Administration. These products are not intended to diagnose, treat, cure or prevent any disease.
Income Disclosure Statement
Please note the QuiAri business opportunity offers unlimited income potential. However, QuiAri makes no guarantee of financial success. Success with QuiAri results only from successful sales efforts, which require hard work, diligence, skill, persistence.
These statements have not been evaluated by the Food and Drug Administration. These products are not intended to diagnose, treat, cure, or prevent any disease.
Recommended Distributors QuiAri