QuiAri Launches The First Real Time Free Tour Marketing System
September 2, 2021
By Team Business For Home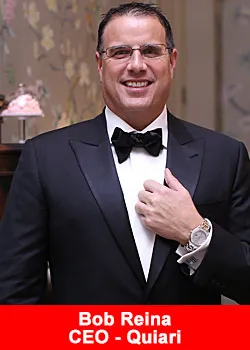 On Wednesday, September 1, 2021, QuiAri shattered yet another MLM industry record. They already have the fastest-paying compensation plan in the industry – just 5 minutes, they were the first to introduce Maqui, the world's new #1 superfruit to the global market, and now they are the first company ever to have a Real-Time Free Tour Marketing System.
Industry experts are calling the Free Tour a game-changer for its genius design and ease of use for both seasoned industry veterans and first-time Network Marketers.
"The products are in high demand around the world, and people are using them to help lose weight, increase their energy, younger and healthier-looking skin, and more. The QuiAri opportunity is unlike any other the industry has ever seen, and people absolutely love it.

However, I felt there was more I could do to help Promoters around the world achieve success faster. The Free Tour Marketing System makes sharing the QuiAri opportunity so easy – literally, anyone can do it – and start earning Same Day Pay after every sale,"
stated QuiAri Founder and CEO, Bob Reina.
QuiAri Promoters are provided with links to over 40 landing pages in their personal Portal (Back Office). A Promoter can automatically share any of those links with their Prospects. Once the link is delivered to the Prospect, and they fill out their contact information, the Free Tour begins.
They are given a temporary place in QuiAri's genealogy for a full 7 days and a Prospect Portal, where they can watch a Business Opportunity Presentation delivered by Bob Reina. During their tour, they can choose to upgrade and join as a Customer or join as a Promoter.
While they are thinking it over, they can see, in real-time, all of the people that are taking the Tour. If the Prospect chooses not to upgrade and become a Promoter, they miss out on all of those commissions they would have earned had they joined.
"I've been in this industry a long time and I've never seen anything like this. Kudos to Bob Reina for his innovative thinking and generosity to give this Free Marketing Tour to all QuiAri Promoters for free.

Part of its brilliance is that all they need to do is copy and paste a link into an email, text, social media post, or really any form of communication, and that gets the ball rolling with their Prospect,"
said Brad Stewart, QuiAri's Director of Field Development.
The Free Tour has generated quite the buzz for QuiAri, which launched less than 2 years ago. Promoters can not only the Free Tour, but also many attractive resources available to them that you won't find anywhere else.
Products available in over 200+ countries worldwide
The fastest-paying compensation plan and one of the highest-paying compensation plans
Commissions paid in 5 minutes or less globally
Multiple ways to earn, including an industry-first unlimited $500 USD Speed Bonus
And more.
Promoters are especially excited about the Free Tour Marketing Video, which is a Business Opportunity Presentation hosted by Bob Reina. It contains everything a Prospect needs to know to get started. Bob showcases everything about QuiAri:
The vision of the company
The origins of Maqui
Bob's collaboration with our Scientific Advisor Dr. Juan Hancke to create QuiAri's proprietary Maqui Berry extract, MaquiX®. (Which boosts the antioxidant power of Maqui up to 10 times.)
Real People with Real Results
QuiAri's Compensation Plan with Same Day Pay (commissions paid within 5 minutes after every sale)
Timing and More!
"I was once a Promoter in the field, and I always wished I had a resource like this to help me build my business. We've successfully revolutionized the duplication process. This is going to change so many lives around the world. I'm really excited about the future of this company. I'd love to see everyone achieve our top rank of Purple Diamond and live their dream lifestyle,"
said Founder and CEO, Bob Reina.
As more people take the Free Tour, they too will see that QuiAri is more than just another health and wellness company. We are committed to helping people live their best lives worldwide.
"For the past 2 years now, we have been getting closer towards our goal of becoming the next multi-billion-dollar brand. Our timing is perfect and I'm happy to be able to deliver the best products and provide the best support to our Promoters so they can build a successful global business,"
said QuiAri Founder and CEO, Bob Reina.
About QuiAri
QuiAri is the #1 health and weight loss movement in the world today. Featuring exclusive, breakthrough products (QuiAri Shake and QuiAri Energy) featuring the world's new #1 superfruit, the Maqui berry, people everywhere are losing weight, boosting their energy levels, and improving their health. What started as an idea has now become a worldwide phenomenon, gaining a passionate following in over 200 countries.
But that's not all! We boast an exciting opportunity to promote QuiAri products and earn commissions within 5 minutes after each sale through industry-first, state-of-the-art payment technology. Combining unrivaled products with the fastest payout, the fastest cycling binary, and one of the highest paying compensation plans in the industry, there's no doubt QuiAri is helping people live healthier, happier lives. To learn more, please visit quiari.com.
These statements have not been evaluated by the Food and Drug Administration. These products are not intended to diagnose, treat, cure or prevent any disease.
Income Disclosure Statement
Please note the QuiAri business opportunity offers unlimited income potential. However, QuiAri makes no guarantee of financial success. Success with QuiAri results only from successful sales efforts, which require hard work, diligence, skill, persistence.
These statements have not been evaluated by the Food and Drug Administration. These products are not intended to diagnose, treat, cure, or prevent any disease.
Recommended Distributors QuiAri