BE Unstoppable World Tour 2021
October 12, 2021
By Team Business For Home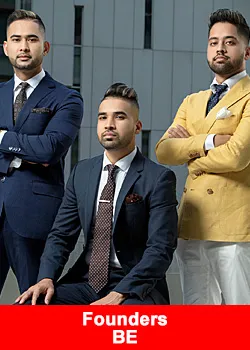 BE announces its three month-long series of events throughout Latin America, USA, and Europe.
BE, the rapidly expanding company, after its most recent successful events, announces the extension of the BE Virtual Convention 2021 to another Three-month-long world tour across 10 countries spanning from Latin America, to the United States of America, and parts of Europe.
With its well-upheld reputation for hosting grandiose and top-notch events, the BE community looks forward to another innovative and empowering gathering, but this time, live in their very own cities and countries.
BE's CVO and Co-founder Monir Islam will be leading the BE Unstoppable World Tour 2021 alongside the company's prestige BE Diamonds & above which will kick off on 16th October, 2021 in Rome.
Strongly bounded by their theme of BE Unstoppable, the event's journey is promised to fulfill immersive keynotes and trainings, Monir Islam emphasizes:
"BE will continue to passionately host gatherings and extend platforms for anyone and everyone who thinks big, dreams big, and works hard to rise beyond the limits.

We are privileged to strengthen our community's foundations and equip and support others as they take their business to the next level.

Our events have and will continue to pave remarkable moments, reminding us that every step in this journey is worth it because there are unstoppable visionaries that wholeheartedly strive to become better."
Following the BE Unstoppable World Tour 2021, the company delivers its promise with a couple of events lined up as they welcome 2022 – from BE Dream Cruise this coming January and the BE Global Convention in March 2022.
Visit www.beunstoppable2021.com for the full information.
About BE
BE is a next-generation ecosystem made up of a unique concept of 'Live & Learn' which includes e-learning and travel platforms with a comprehensive set of tools for independent business owners.
The BE ecosystem uses artificial intelligence technology, to offer a decentralized, transparent, and empowering space for people from all walks of life, regardless of their educational or financial background, to build their very own multimillion-dollar business from their smartphone.
For more information, please visit www.berules.com
Recommended Distributors BE