QuiAri Celebrates 2 Record-Shattering Years In Business
October 7, 2021
By Team Business For Home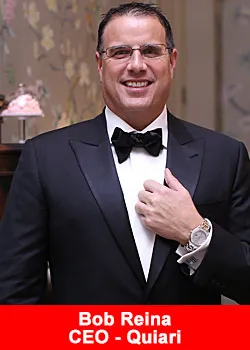 Happy 2nd Birthday to QuiAri!
What has one of the fastest-growing home-based health and wellness company with a footprint in over 200 countries worldwide been doing for the last two years? The short answer – growing into the next multi-billion-dollar company.
QuiAri Founder and CEO, Bob Reina, is well-known throughout the MLM industry for his aggressive global marketing strategy, record-setting compensation plan, breakthrough, one-of-a-kind products, and more. Most companies take months or years to accomplish everything QuiAri has in 24 months, which has prompted industry experts to ask the obvious question: How did QuiAri do it?
"Despite the many diverse cultures and languages around the world, QuiAri's core values speak to everyone. On a very basic level, we help people lose weight, increase their energy, look and feel younger, and feel their best.

On a higher level, QuiAri is the first to introduce the Maqui Berry, the world's #1 superfruit, to the global marketplace. Its health-giving benefits have been extensively studied by our own Scientific Advisor, Dr. Juan Hancke, so we have always been well-positioned for success.

People all over the world are experiencing incredible results and sharing success stories online and with family and friends.

Every time somebody they know purchases QuiAri products, they get paid commissions in just 5 minutes – that's the fastest in the industry,"
stated QuiAri Founder and CEO, Bob Reina.
Led by Bob, QuiAri's Executive Leadership Team has a combined 150+ years of MLM experience. Surrounded by experts who are the best in the business, they put in countless hours creating a culture at QuiAri where accomplishing industry-firsts and changing lives happens almost on a weekly basis.
#1 Global Business Opportunity
Fastest payout in the industry (5 minutes)
World's First Real-Time Free Tour Marketing System
Multi-billion-dollar management team & support
One of the highest paying Compensation Plans
Fastest-growing social media
First to introduce Maqui, the world's new 1 Superfruit, to the global market
First and only company to include MaquiX® extract (boosts antioxidant power of Maqui up to 10 times)
Best-tasting products in the industry
#1 Maqui Scientist, Dr. Juan Hancke (QuiAri's Scientific Advisor)
#1 Infrastructure
#1 Global Footprint
#1 Industry Momentum
#1 Marketing
QuiAri operates through the power of highly motivated people looking to make a difference. Customers and Promoters share success stories and QuiAri products 24/7, 365 days a year in over 200 countries worldwide.
Why? Because QuiAri's culture is built on building long-term relationships.
Success is achieved when they find others looking for help losing weight, increasing energy, looking and feeling younger and earning extra income along the way.
The two most recent enhancements that have impacted Promoters the most were the Super Star Guide, a step-by-step guide to teach Promoters how to reach one of QuiAri's highest ranks, and the World's First Real-Time Free Tour Marketing System.
Available on mobile and desktop, the Free Tour Marketing System gives Promoters access to over 40 professionally designed lead-capture pages available 24/7.
Once a Prospect fills in their contact information, the system will automatically show them a pre-recorded opportunity presentation and follows up with a series of email AutoResponders encouraging them to join the Promoter's business.
"QuiAri Promoters and Customers have come to expect the best of the best, and we happily deliver. We pride ourselves on giving Promoters and Customers the most seamless experience possible.

For Promoters, that means systems like the Free Tour, Pre-Recorded Opportunity Presentations, translated resources in 6 languages, a fast and easy-to-follow checkout process, commissions paid in 5 minutes, all of their marketing and social media needs covered, and more.'
Bob said that QuiAri is just getting started. His plans for the future involve massive expansion into new and existing markets worldwide.
"I am deeply committed to helping people not only to improve the quality of their health, but also their lives.

The countless testimonials that come in daily from all over the world prove that QuiAri is making a big impact and my vision for the brand is well received. I'm excited to see what the future holds.

All I can say is there is much more to come. You haven't seen anything yet,"
stated Bob Reina.
About QuiAri
QuiAri is the #1 health and weight loss movement in the world today. Featuring exclusive, breakthrough products (QuiAri Shake and QuiAri Energy) featuring the world's new #1 superfruit, the Maqui berry, people everywhere are losing weight, boosting their energy levels, and improving their health. What started as an idea has now become a worldwide phenomenon, gaining a passionate following in over 200 countries.
But that's not all! We boast an exciting opportunity to promote QuiAri products and earn commissions within 5 minutes after each sale through industry-first, state-of-the-art payment technology. Combining unrivaled products with the fastest payout, the fastest cycling binary, and one of the highest paying compensation plans in the industry, there's no doubt QuiAri is helping people live healthier, happier lives. To learn more, please visit quiari.com.
These statements have not been evaluated by the Food and Drug Administration. These products are not intended to diagnose, treat, cure or prevent any disease.
Income Disclosure Statement
Please note the QuiAri business opportunity offers unlimited income potential. However, QuiAri makes no guarantee of financial success. Success with QuiAri results only from successful sales efforts, which require hard work, diligence, skill, persistence.
These statements have not been evaluated by the Food and Drug Administration. These products are not intended to diagnose, treat, cure, or prevent any disease.
Recommended Distributors QuiAri