3,000+ People Attended BE's Event In Medellin Colombia 
November 7, 2021
By Team Business For Home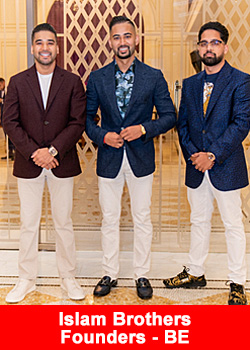 BE once again raised the events bar high for the massive impact of its recent Medellín event.
Upholding the momentum, huge crowds greeted BE's CVO & Co-Founder, Monir Islam, and BE's top leaders right at their arrival at the airport. Its consistent high energy set the tone for the mastermind sessions and transformative training jam-packed by over 3,000 people.
Unstoppable individuals who strive to become better geared up for one-of-a-kind program delivered by BE's exceptional leaders and elite Diamonds who are world-renowned.
"BE is the best brand in the industry, and its founders Monir Islam, Moyn Islam, and Ehsaan Islam are individuals who genuinely care about the impact they can have in this world and on other people's lives. 

 

They are leaders who put others first before themselves, working tirelessly every day to ensure everyone has the best possible experience, product, and support. 

They are true visionaries, and I'm grateful to be a part of this journey with them."
 Allan Badilla, Ambassador of BE proudly shared.
 A bold vision matched with transformational steps to accomplish dreams set the tone for the event. Top Notch leaders discussed career-elevating steps that included business models and practices for exponential growth along with a mindset for undeniable success.
About BE
BE is a next-generation ecosystem made up of a unique concept of 'Live & Learn' which includes e-learning and travel platforms with a comprehensive set of tools for independent business owners.
The BE ecosystem uses artificial intelligence technology, to offer a decentralized, transparent, and empowering space for people from all walks of life, regardless of their educational or financial background, to build their very own multimillion-dollar business from their smartphone.
For more information, please visit www.berules.com
Recommended Distributors BE