BE Started Its Latin American Tour With A Massive Crowd In Cucuta, Colombia
November 1, 2021
By Team Business For Home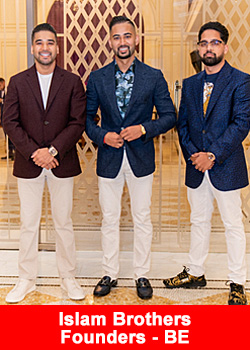 BE receives a heartwarming welcome in Cucuta, Colombia, setting up the bar for the impact of the incoming leg of the BE Unstoppable tour throughout Latin America.
From being welcomed by a large crowd lined up at the airport with a high energy cheer for the arrival of BE's CVO & Co-Founder, Monir Islam, to a jam-packed mastermind event led alongside BE's top leaders.
BE's stronghold of Diamonds and above flew from different corners of the world to deliver powerful keynotes and training to a total of over 1,000 people in Cucuta.
"I have been in the industry for a long time, but I have never witnessed a brand like BE.

To work hand-in-hand with the founders, the Islam brothers, who tirelessly and first-handedly express their commitment to continue growing the community with a strong focus on its people and products,

I take great pride in being part of one of the leading companies in digital transformation with an expanding legacy an ever-innovative vision and mission. It is one-of-its-kind",
BE Vice President Jose Ardon proudly shares.
The BE Unstoppable World Tour 2022 Latin America will continue its tour across Medellin, Costa Rica, Ecuador, Bogota, Colombia, Mexico City, Uruguay, and Argentina. Visit www.beunstoppable2021.com for the full information.
About BE
BE is a next-generation ecosystem made up of a unique concept of 'Live & Learn' which includes e-learning and travel platforms with a comprehensive set of tools for independent business owners.
The BE ecosystem uses artificial intelligence technology, to offer a decentralized, transparent, and empowering space for people from all walks of life, regardless of their educational or financial background, to build their very own multimillion-dollar business from their smartphone.
For more information, please visit www.berules.com
Recommended Distributors BE