Deloitte Recognizes Vyvo As One Of The Fastest-Growing Technology Companies
November 23, 2021
By Team Business For Home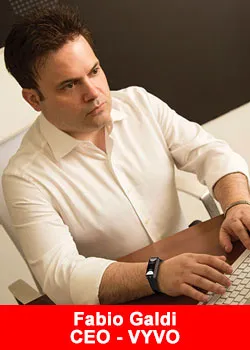 Deloitte Recognizes Vyvo as one of  the Fastest-Growing Technology Companies.
First Network Marketing Company to Receive Honor.
The 2021 Deloitte Technology Fast 500 Awards recognized Vyvo in the 27th year of this program, which celebrates the most innovative, fastest-growing technology companies in North America.
For more than two decades, Deloitte, the largest professional services firm in the world, has been honoring the most innovative, fastest-growing public and private technology companies that hail from cities across North America. The Technology Fast 500 was created to recognize the passion and dedication it takes to be an industry disruptor.
The award is granted by Deloitte to technology innovators in selected industry sectors who own proprietary intellectual property or technology that is sold to customers in products that contribute to a majority of the company's operating revenues, enabling these Technology Fast 500 awardees to achieve impressive growth.
This year, and for the first time, Vyvo was chosen by Deloitte to join this elite group of high-achievers who were selected based on their revenue growth from 2017 to 2020. Vyvo's percentage fiscal year revenue growth was 679% during these three years, which is well above the Technology Fast 500 median growth rate of 521%.
"Each year, the Technology Fast 500 shines a light on leading innovators in technology, and this year is no exception," said Paul Silverglate, vice-chair, Deloitte LLP, and U.S. technology sector leader.

"In the face of innumerable challenges resulting from the pandemic, the best and brightest were able to pivot, reinvent and transform and grow. We celebrate the winning organizations, and especially the talented employees driving their success."
Vyvo CEO Fabio Galdi said:
"We're honored and humbled by this significant mainstream award from the biggest of the 'Big 4' accounting firms, Deloitte, and to be the first network marketing company given this honor. This award confirms that Vyvo's innovation and technology, combined with the efforts of Vyvo Members and employees,  have driven our impressive growth.

Vyvo is now at the forefront of digital health.We are future makers. Our life-changing technology combined with the power of AI and blockchain allows us to offer unique products and services to the market, while transparently sharing the revenue generated with Vyvo Members."
Having achieved this award only solidifies that their Members are at the right place and at the right time building a booming referral business made to fit anyone's lifestyle. With a true hybrid business model, they take the ease off entry requirements such as no big pack purchases, no home inventory, no monthly or annual fees, just a plug and work tech business in a box.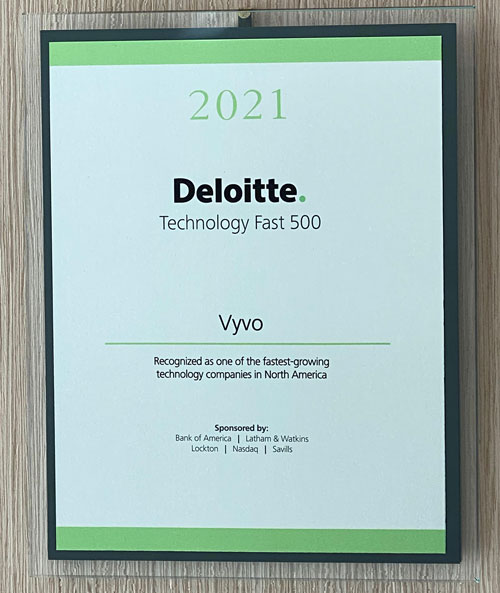 Vyvo's Life Sensing TechnologyTM and Vyvo's Watch 2 (which leverages Mr. Galdi's U.S. Patent No.:10,912,519 granted February, 2021) allows high quality wearer data to be gathered anywhere, anytime.
Watch 2's patented side sensors enables precision measurement of blood oxygen, blood pressure and HRV, as well as continuously monitoring body temperature and many other health and fitness parameters making this a complete game changer in home-based businesses making it the most simple business to explain – no tech skills or nutritional explanations required!
In addition to these benefits, even a Community Member earns revenues just by using their Vyvo LifeWatch. Unlike any other watch on the market, Vyvo's patented wearable tech generates utility tokens on the Ethereum ERC-20 blockchain, which are used to ensure that all Members get a piece of the revenue generated from the sale of Vyvo's anonymized wearer data.
The funds for these utility Tokens are generated from the sale of products and services that use this data for product optimization and personalization. In addition, access is also provided to universities, researchers, hospitals and for population wellness and other studies which may facilitate medical breakthroughs giving all Members the ability to participate in a great mission for global well-being.
On Friday, Nov. 26th, Vyvo will be honored by the Nasdaq Stock Exchange! Along with other Bay Area companies recognized by the Deloitte Fast 500, the Vyvo logo will be displayed on the massive Nasdaq Times Square tower video screen from 12:30 to 1:30 p.m. Eastern time, leading up to and following the Closing Bell at 1:00 p.m. that day.
Networks typically pick up the feed of the Closing Bell ceremony roughly 1-2 minutes before the markets close. Watch it all live at  https://livestream.com/accounts/27896496/events/9914320 and take advantage of this opportunity to celebrate their success and this incredible recognition!
 About Vyvo
Vyvo's mission is to use its Life Sensing Technology™ to improve the health, wellness, and financial well-being of its Members.  Vyvo has created a lucrative home-based tech business, empowering millions of people worldwide by enabling them to bring tangible benefits to all Vyvo LifeWatch wearers. These benefits include personal health and wellness reports, Guardian Alerts, and rewards for wearing a Vyvo LifeWatch.
Vyvo's technology, inspired in Silicon Valley and used worldwide powers the first self-funding Digital Health Sharing Economy where everyone can prosper. For more information, please visit Vyvo.com.
"Vyvo" is a trade name of Helo Corp., a US public company (OTC: HLOC) with two subsidiaries in the US (Vyvo Technology Corp., in California and Vyvo Inc., in Florida) and other subsidiaries worldwide, including Vyvo Network Japan KK in Japan, Vyvo Network Pte Ltd in Singapore and Taiwan, and Vyvo Smart Ltd in Ireland.