Industry Leader Leo Cuong From Vietnam Joins QuiAri
November 25, 2021
By Team Business For Home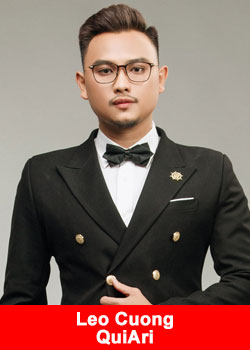 The one regret that many successful people in Network Marketing have is not joining the industry sooner. That wasn't the case for Leo Cuong from Ho Chi Minh City, Vietnam. As soon as he graduated from college, he knew he wanted time freedom, financial freedom, and to be his own boss.
"After college, I had a successful 8-year career in Direct Sales. I temporarily left to start my own business. I'm an entrepreneur at heart. Like with many businesses, it struggled during the pandemic.

Owning your own business comes with risks. Network Marketing does not. I found QuiAri through my sister, Tracy Thao, who is a QuiAri Promoter, and I realized this was the perfect opportunity to jump back in and rise through the ranks quickly,"
Leo Cuong.
During Leo's short time at QuiAri, he has already achieved one of their highest ranks – Champion. He said that QuiAri is "the new #1 in the industry" and joined because he wanted to be with the "best of the best." In his 2 years in the industry, Leo has committed full-time to promoting QuiAri products and plans to have teams in every one of the 200 countries they serve
"I admire QuiAri for being the most revolutionary company in the industry. They have the fastest payout in the industry – just 5 minutes, the most generous Compensation Plan, the World's First Real-Time Free Tour Marketing System, and the products work.

I was curious and tried some samples prior to joining. QuiAri Shake and Energy helped me lose 8 pounds in 2 months and boosted my energy levels. I'm more productive with my business and I look and feel great."                
Leo agrees that QuiAri products are unlike anything the industry has ever seen before. He supports Founder and CEO, Bob Reina's mission to help people improve their lives – both in health and the opportunity for financial freedom.
"Bob's kindness and enthusiasm as a leader inspires me. He started QuiAri with the best intentions – helping people – and now look at how far the company has come.
We have Promoters and Customers in virtually every corner of the world, revolutionary products with extraordinary antioxidant power, an Executive Team with over 150 years of combined MLM experience leading us, and 5-minute pay.
QuiAri is the fastest-growing home-based global business in the MLM industry. I feel like I've been given a gift being part of this company."
 Throughout Vietnam, and the rest of the world, Leo said he has been helping people understand the power of the products and the mission of the company. Everyone in the world would like to be in better health and everyone would like an opportunity to earn extra income.
"Interest in QuiAri is at an all-time high around the world, which is making it easier to promote the products. The history of the Maqui Berry, the world's new #1 superfruit, is compelling by itself.

For thousands of years the Mapuche people have used Maqui to give them strength, stamina, and good health. Today, people are taking QuiAri products and experiencing life-changing results.

This is accomplished simply by drinking a delicious shake first thing in the morning and then taking a powerful QuiAri Energy tablet or two as needed throughout the day."
 Leo is confident QuiAri is on the path to becoming a multi-billion-dollar company. He has set a personal goal to achieve QuiAri's top rank of Purple Diamond.
"Being a part of QuiAri's global family means a lot to me. Having such a strong support system helps me grow my business faster than I ever thought possible. I have big dreams.

Now I finally feel like I've found an opportunity that can make them all come true. Thank you, QuiAri, and Founder and CEO, Bob Reina, for all that you do for us,"
said Leo Cuong.
About QuiAri
QuiAri is the #1 health and weight loss movement in the world today. Featuring exclusive, breakthrough products (QuiAri Shake and QuiAri Energy) featuring the world's new #1 superfruit, the Maqui berry, people everywhere are losing weight, boosting their energy levels, and improving their health.
What started as an idea has now become a worldwide phenomenon, gaining a passionate following in over 200 countries. But that's not all! We boast an exciting opportunity to promote QuiAri products and earn commissions within 5 minutes after each sale through industry-first, state-of-the-art payment technology.
Combining unrivaled products with the fastest payout, the fastest cycling binary, and one of the highest-paying compensation plans in the industry, there's no doubt QuiAri is helping people live healthier, happier lives. To learn more, please visit quiari.com.
*These statements have not been evaluated by the Food and Drug Administration. These products are not intended to diagnose, treat, cure, or prevent any disease.
Income Disclosure Statement
Please note the QuiAri business opportunity offers unlimited income potential. However, QuiAri makes no guarantee of financial success. Success with QuiAri results only from successful sales efforts, which require hard work, diligence, skill, persistence, competence, and leadership. Your income will depend upon how well you exercise these qualities.
Recommended Distributors QuiAri