Jeanie and Presley Swagerty Achieve Senior Vice President Rank At ACN
November 26, 2021
By Team Business For Home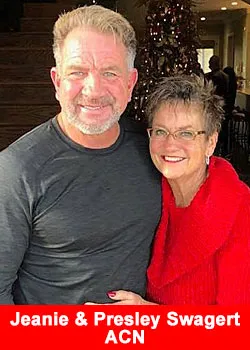 The network marketing veterans have carved a blazing path of success at the global direct sales company after transitioning from Kynect.
Sixteen years ago, someone sat down with Presley Swagerty, placed a napkin in front of him, and sketched out a business plan that would change his family's life forever.
It was the first time Presley and his wife Jeanie considered a network marketing opportunity as a way to earn extra money. They worked the business like they had no other choice—because, really, they didn't.
"Our backs were against the wall," Presley says. "I was a high school basketball coach facing bankruptcy. But today, my reality is better than my dreams used to be."
The Swagertys are founding members of Kynect, formerly a Dallas-based network marketing company. They built a massive business there, eventually earning their place as the No. 1 income earners in the entire company. Still, they were itching to climb higher.
When ACN acquired certain assets of Kynect in June 2021, they got their chance.
Much of Jeanie and Presley's success with Kynect came from sharing energy services in a handful of states, with a dream of future nationwide expansion. After the acquisition, everything they had wished for and more came true almost overnight.
Through ACN, they would still work with a business model they know and love well: The opportunity to earn extra income every single month, just by referring their friends and family an alternative to services they're paying for anyway. But now, they could do that on a global scale.
ACN is the largest direct seller of essential services on the planet, offering over a dozen services across 27 countries.
"We went from Double-A baseball to the big leagues just like that," Presley says.

"I could not be happier. I feel like I've died and gone to business heaven if you really want to know the truth."
Jeanie and Presley transitioned their entire organization to ACN. While some giants of the industry may have been content with maintaining their business as-is and letting it grow passively, the Swagertys were ready for more.
And so they got to work again, pushing themselves to reach the highest leadership position possible in ACN: Senior Vice President.

You know, Jeanie and Presley could have sat back and done nothing when they moved to ACN. The checks would have kept coming,"
says ACN Co-Founder Tony Cupisz.
"But they were ready to light a fire under the seat of every single IBO in the business.

They proved to them that no matter how much success you've had, there is always more to do and more to be. We are so, so proud to congratulate them on this monumental achievement."
With their promotion to Senior Vice President, Jeanie and Presley have demonstrated to the world that a brighter, more prosperous future is always worth striving toward, even if you thought you'd come as far as you could go.
About ACN. Inc.
Founded in 1993, ACN is the world's largest direct seller of telecommunications, energy and other essential services for residential and business customers.
ACN provides the services people need and use every day, including wireless, identity theft protection, energy, merchant services, television, security and automation and high-speed internet.
ACN operates in 27 countries, with offices in North America, Latin America, Europe, Asia and the Pacific. For information on ACN's home-based business opportunity, visit acn.com.