Adam Biernat From Poland Achieves Diamond Ambassador Rank At iGenius
December 17, 2021
By Team Business For Home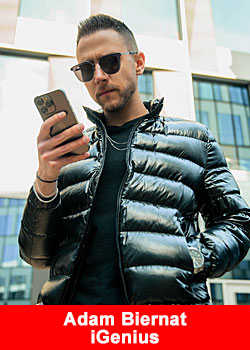 Adam Biernat, a twenty-three-year-old from Poznan, Poland is a sports star turned network marketing leader. He lives by the quote,
"Hard choices, easy life. Easy choices, hard life."
Ever since Adam was a young boy, his life revolved around sports. Unfortunately, due to one too many injuries, Adam had to trade the jersey for a new way of life. His idea of the future was not going as planned, and it was not easy for Adam to choose "normal".
Adam still had enormous ambitions, but he didn't not know how to apply them. He started working as a full-time employee at a local store, then he became a customer advisor for a bank.
Still not satisfied, Adam kept searching for more. Luckily for him, he was introduced to network marketing in 2018. He knew opportunities like the one he was presented with didn't come often, and he realized he couldn't afford to waste it, so he chose to dive in head first.
Adam started building his business with iGenius about one year ago, when iGenius first launched. When asked why he chose iGenius out of all the other network marketing companies, he said,
"The simplicity of the iGenius products really intrigued me. I was also impressed with all of the additional third-party product offerings iGenius members get access to.

Another huge factor for me was the possibility of introducing iGenius to the Polish market."
Adam has found great success with iGenius. His athletic background has instilled the mentality to always work hard and be organized in all aspects of life.
These attributes have allowed Adam to be a great example for many, and as a result, he's built a very successful team. With his dedication, time, and effort, Adam recently reached the rank of Diamond Ambassador with iGenius.
When asked what has helped him have success in the business, and what advice he'd like to share with his peers, Adam said,
"There are two things that have helped me grow my business into what it is today; big vision, and consistency.

For all those looking to get started in the business, I'd suggest that you take it very seriously. Focus on one action at a time, and set a timeframe to achieve each of your goals."
Adam's next goal with his business is to rank up to Presidential Ambassador and build the biggest network marketing organization in Poland.
About iGenius
iGenius helps members amplify their quality of life by providing leading edge financial tools, education, and opportunities.
iGenius can help you take control of your future and start living brilliantly. For more information about iGenius, visit: www.igeniusglobal.com.
iGenius LLC is a wholly owned subsidiary of Investview Inc., (OTCQB:INVU), a public company. For more information on Investview and the ability to participate in Investview's growth, please visit investview.com or email [email protected].
Recommended Distributors iGenius