BE Launches Uruguay
December 7, 2021
By Team Business For Home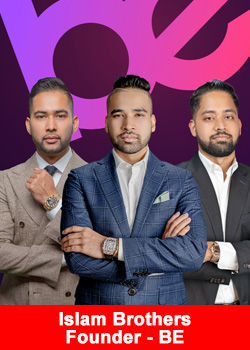 Large crowds in the BE Unstoppable World Tour in Uruguay Marks its Success. BE celebrated another impactful and successful event in Uruguay for the BE Unstoppable World Tour 2021.
Monir Islam, the CVO of BE, accompanied by the talented industry pioneers and BE leaders, were met with the crowd's euphoria of excitement, energy, and cheer right from when they landed.
The leading masterminds kept to the thrust of the powerful theme of BE Unstoppable with professional and personal mastery strategies, coaching on discovering opportunities, cultivating goals, and redefining one's true potential.
Powerful points shaped by their proven experiences have rigged them in dominating the industry and self-success.
BE Diamond, Matias Piriz, shared his sentiments:
"BE events are to inspire, empower, recognize and reward the hard work and commitment of the passionate brand influencers who take the mission to create a life of freedom for others.

BE Unstoppable is a platform for growth, an opportunity to train with the best of the best, and a chance to cultivate life-long relationships, to prosper, and to live to full potential."
Moyn, Ehsaan, and Monir Islam, Founders of BE, congratulated the teams and everyone behind this incredible tour. They stated,
"Uruguay was awesome. It is one of the best ways to close the end of 2021. Unstoppable is an ethos, and we will celebrate the past and the new year with it."
About BE
BE is a next-generation ecosystem made up of a unique concept of 'Live & Learn' which includes e-learning and travel platforms with a comprehensive set of tools for independent business owners.
The BE ecosystem uses artificial intelligence technology, to offer a decentralized, transparent, and empowering space for people from all walks of life, regardless of their educational or financial background, to build their very own multimillion-dollar business from their smartphone.
For more information, please visit www.berules.com
Recommended Distributors BE