iGenius Soars Through 2021
December 3, 2021
By Team Business For Home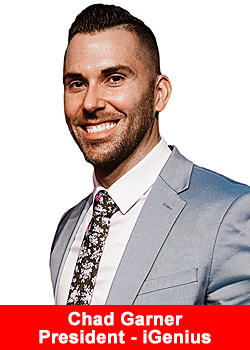 iGenius revenues have increased every single quarter this year, and the company has seen a significant uptick in new enrollments, membership upgrades, and total memberships. The iGenius platform is now being shared all over the world.
iGenius President, Chad Garner, said,
"It's been an amazing year and keeps getting better. November 2021 was the largest sales month in company history, but what really excites us is all the new people getting access to our crucial financial education and research products.
Chad continues:
The world is changing faster than ever, and our platform continues to expand and evolve. In addition to our financial education, we continue to forge strategic third-party partnerships.

We leverage our economies of scale to negotiate unique perks, benefits, and access for our members to utilize valuable third-party companies and products. We focus on financial education and allow our strategic partners to do what they do well, and our members are reaping the benefits by getting access to both."  
iGenius continues to improve its platform and increase the value of its products. A great example of this progress occurred in November when iGenius launched a brand-new product called MARKETpro. MARKETpro delivers a robust library of market education videos, eBooks, research, and calendars in a variety of languages to help further expand the reach of iGenius.
Since the initial launch, iGenius has added numerous educational videos to their University, contracted with multiple new market experts, launched new products, and formed new strategic partnerships. Additionally, several changes have been made to the iGenius product website, offering iGenius members a better, cleaner, and more user-friendly experience.
iGenius has excelled in its first year of business and is succeeding on its mission to help individuals leverage new technologies, learn new skills, and adopt new ways of thinking. With the iGenius platform, anyone can learn how to capitalize on the markets and make smarter financial decisions.
About iGenius
iGenius helps members amplify their quality of life by providing leading edge financial tools, education, and opportunities.
iGenius can help you take control of your future and start living brilliantly. For more information about iGenius, visit: www.igeniusglobal.com.
iGenius LLC is a wholly owned subsidiary of Investview Inc., (OTCQB:INVU), a public company. For more information on Investview and the ability to participate in Investview's growth, please visit investview.com or email [email protected].
Recommended Distributors iGenius