Jasna Durakova Receives Double Diamond Elite Rank At Rain International
December 30, 2021
By Team Business For Home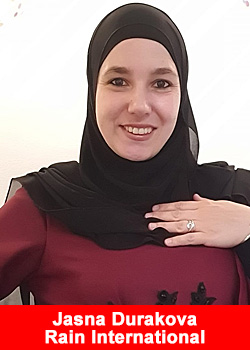 Jasna Durakova, a mother of three from Bosnia, has received her Double Diamond Elite rank status with Rain International.
Before being introduced to Rain's products, Jasna experienced health issues that caused inflammation in her body, and they attributed to Jasna being unable to feel like herself.
As she overcame health obstacles with the help of Rain's products, she was able to have more energy and increase her self-confidence.
Once Soul helped with her illness, she fell in love with the product and everything it was doing for her wellness. She wanted nothing more than to show others how the products have made life-changing differences in her health.
Once Rain International was open in Bosnia, she was able to recruit new members. Without expertise in recruitment, she succeeded with the support from her upline and team members. Since 2018, she has recruited worldwide and has seen how her team members have had their lives changed just like hers— thanks to Soul and other Rain products.
Jasna explains what this ranking personally means to her,
"I have realized that being Diamond means being a role model to others. I am honored to be a role model to many women.

I am a mother of three children, and I have proved that every woman can be successful.

When I was very ilI, I was introduced to these products and started to drink Soul. The moment it helped me with my illness is the moment I fell in love with Soul."
Jasna attributes her success to building trust within her team, leading to long-term success. As she works with her team 24/7, she finds that the most significant advantages are meeting new people and making new friendships. That determination has got her where she is today.
Byron Belka, CEO of Rain International, remarks on her success and determination,
"Jasna has become a great example of determination for our Rain Family. Having Jasna as a Rain leader has added so much to the company already and we are so happy she's here!"
This is a fantastic accomplishment for Jasna, and it shows that with hard work and determination, anyone can achieve their goals. Jasna is happy to have the opportunity to connect with her team and help others overcome health challenges.
Throughout her success, she has realized that holding Diamond means being a role model to others as she is proud to be a mother that is able to support herself and her family. She is a great example to everyone within Rain International of how using Rain's products can change your outlook on yourself and your future.
About Rain International
Rain International is the original creator of seed-based nutrition. Our experts have gone to the source of plant nutrition to formulate products proven to support healthy lives.
Rain International is more than the products we sell. From the beginning, we set out to make changes to improve the world around us, starting with the health industry and moving beyond its borders into global sustainability, education initiatives, elevated lifestyles, and more.
We believe that the ultimate human experience we all crave is within everyone's reach, and we don't mind leading the way. For more info, please visit www.rainintl.com
Recommended Distributors Rain International