QuiAri Breaking Records And Making Headlines
December 16, 2021
By Team Business For Home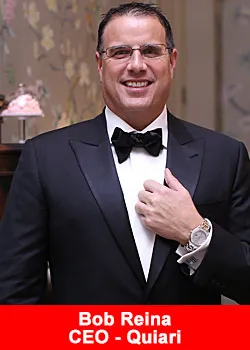 After 2 years in business and a global reach of 200 countries worldwide, QuiAri has moved far beyond the "startup" phase of their business.
In fact, the company has grown so quickly that its distribution and resources rival many multi-billion-dollar businesses.
QuiAri Founder and CEO, Bob Reina points to industry-first Same Day Pay, the World's First Real-Time Free Tour Marketing System, revolutionary products, and being the first company in history to introduce Maqui, the world's new #1 superfruit, to the international marketplace as several contributing factors to their whirlwind success.
"We built up a lot of momentum prior to launch and it hasn't stopped. The pandemic didn't slow us down at all.

As we inspired more people to live better lives, word got out about what we were doing, and our business just exploded. Our sales for November were the best in company history,"
stated Founder and CEO, Bob Reina.
 The industry has been watching QuiAri closely with many people interested in learning how QuiAri keeps outperforming expectations. The company was recently named as a "Startup Superstar," by Direct Selling News (DSN), a well-respected MLM industry news outlet.
DSN plans to feature a more in-depth interview showcasing QuiAri with Bob and several of his key Executive Team members. QuiAri's leadership team, who were hand-selected by Bob for their Relationship Marketing expertise, have a combined 150+ years of industry experience and deserve to be recognized.
QuiAri sales aren't the only thing breaking records. They have acquired a massive social media following in a very short period of time. At the time this article was published, QuiAri passed an important milestone on social media – 250,000 likes on Facebook.
"We love showcasing our success stories on social media – and there are a lot of them. I've been in Marketing and Sales in this industry for over 15 years and I haven't seen this kind of enthusiasm for a brand in a really long time.

We consistently get between 500 and 1,000 comments on each post and add about 5,000 page likes every week.

Facebook has helped turn our Promoters and Customers into one big family. Everyone is committed to helping each other succeed,"
said VP of Marketing, Allison Roberts.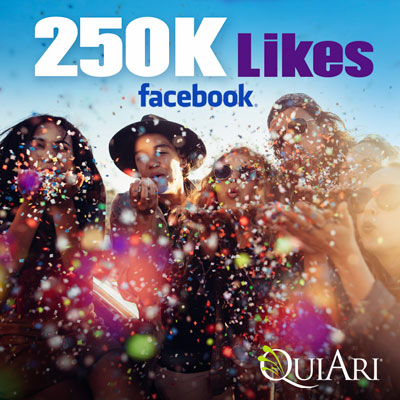 QuiAri's exciting social media accomplishment has made international headlines via a global press release that was published just last week. Through social media and digital marketing, they have been able to launch worldwide promotions and incentives that help drive growth and keep Promoters and Customers engaged and excited. 
"December is a big month for everyone. We've used social media and digital marketing to help our Promoters and Customers where they need it most – in their bank accounts.

Just this month alone we offered a 5% discount on all products, volume rollover from November to December, and we lifted rank requirements through the end of the month to make it easier for Promoters to rank advance.

They have been calling me "Santa Bob" and thanking me for being so generous. Honestly, It's just the right thing to do. We're in the business of helping people live their best life,"
said Founder and CEO, Bob Reina.
Although the month isn't over yet, these "gifts" appear to have translated into more sales. Bob couldn't reveal what his plans were for 2022, but he said "QuiAri is the gift that keeps on giving…" and that "…we haven't seen anything yet." He encourages everyone to stay tuned to QuiAri's weekly live broadcasts for news, updates, global expansion, and more.
About QuiAri
QuiAri is the #1 health and weight loss movement in the world today. Featuring exclusive, breakthrough products (QuiAri Shake and QuiAri Energy) featuring the world's new #1 superfruit, the Maqui berry, people everywhere are losing weight, boosting their energy levels, and improving their health.
What started as an idea has now become a worldwide phenomenon, gaining a passionate following in over 200 countries. But that's not all! We boast an exciting opportunity to promote QuiAri products and earn commissions within 5 minutes after each sale through industry-first, state-of-the-art payment technology.
Combining unrivaled products with the fastest payout, the fastest cycling binary, and one of the highest-paying compensation plans in the industry, there's no doubt QuiAri is helping people live healthier, happier lives. To learn more, please visit quiari.com. To learn more about QuiAri, their products, and the opportunity to become a Promoter, visit www.quiari.com/en, or follow them on social media @QuiAriOfficial.
These statements have not been evaluated by the Food and Drug Administration. These products are not intended to diagnose, treat, cure, or prevent any disease.
Income Disclosure Statement
Please note the QuiAri business opportunity offers unlimited income potential. However, QuiAri makes no guarantee of financial success.
Success with QuiAri results only from successful sales efforts, which require hard work, diligence, skill, persistence, competence, and leadership. Your income will depend upon how well you exercise these qualities.
Recommended Distributors QuiAri