Scotty Huss Achieves Presidential Ambassador Rank At iGenius
December 10, 2021
By Team Business For Home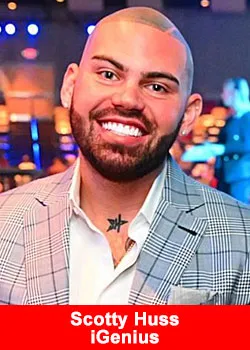 Scotty Huss, a twenty-four-year-old from Port Charlotte, Florida, USA, always knew he'd become a success story.
Scotty didn't come from wealth or any special background. He's never been the smartest or most talented person in the room, but he's always had drive for creating a successful future. Scotty joined iGenius eleven months ago. He said,
"I chose to join iGenius because of their innovative partners, strategies, ideas, and services." 
Scotty has dedicated himself to his business. Eleven months ago he chose to be all-in and has found great success from consistency, dedication, and drive. As a result of all his hard work, Scotty recently reached the rank of Presidential Ambassador.
Scotty focuses greatly on personal development. He lives by the quote,
"In order for things in your life to change, you have to change things in your life."
Scotty also attends all major iGenius events so he can continually learn and grow from iGenius corporate and leaders from all around the world. He believes that surrounding himself with successful individuals is a key to growing and building his business.
Scotty is turning into a well-respected iGenius leader. One of his strengths is believing in his team and educating them on the spiritual side of success. When asked what advice he'd give to his peers he said,
"Take the time to develop yourself and your business will flourish and develop as well. Amateurs join businesses and professionals launch." 
Scotty's next goal in the business is to develop the fastest Crown (seven-figure earner) through his organization.
About iGenius
iGenius helps members amplify their quality of life by providing leading edge financial tools, education, and opportunities.
iGenius can help you take control of your future and start living brilliantly. For more information about iGenius, visit: www.igeniusglobal.com.
iGenius LLC is a wholly owned subsidiary of Investview Inc., (OTCQB:INVU), a public company. For more information on Investview and the ability to participate in Investview's growth, please visit investview.com or email [email protected].
Recommended Distributors iGenius