Single Mom And Network Marketing Super Star Tanya Sanderson Joins QuiAri
December 2, 2021
By Team Business For Home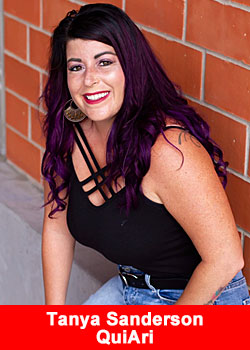 The path to success isn't always the most obvious one. Tanya Sanderson, a single mother of 2, thought that a college degree would provide the quickest way to financial freedom for her family.
She went $55,000 into debt, but worked hard and ultimately received her Bachelor's Degree in Business Administration. She assumed there would be plenty of opportunities waiting for her once she graduated.
"I was a full-time student and Mom, but I was willing to do whatever it took to improve my life. After graduation, I struggled to find a job in Business Administration. I worked 3 part-time jobs to make ends meet and was exhausted all of the time.

About 6 years ago, a friend introd

uced me to a Health and Wellness Network Marketing company, and I finally realized the true potential of the industry. Now that I'm a full-time Promoter with QuiAri, my business is growing quickly, and my life just keeps getting better.

My kids are happy, and we live more comfortably now. I love helping people, and I'm no longer stressed out about my financial future,"
said Tanya Sanderson. 
Tanya said the excitement, energy, and culture all contributed to her decision to join QuiAri. She also loved the products and could easily see that QuiAri was unlike any other company in the industry.
"All of the QuiAri Promoters I met seemed happy and eager to help each other. Then I tried the products and I felt like I hit the jackpot. It was love at first taste. Other nutritional products always seemed to leave me with a stomachache.

QuiAri Shake was smooth, rich, and delicious. The Energy tablets were gentle and clean. I had all-day energy."
 She initially believed that growing her business in over 200 countries worldwide would be challenging, but she was wrong. When she started using all of the vast resources QuiAri provides for free, Tonya realized it was actually quite easy.
"Everything, including the QuiAri mobile app and Portal, is provided to Promoters for free.
The Super Star Guide is there to teach us how to duplicate success, the World's First Real-Time Free Tour Marketing System helps us build relationships, and there is a pre-recorded Opportunity Presentation hosted by our Founder and CEO, Bob Reina, available 24/7, 365 days a year to help us explain the business plan to Prospects.
I like that I can focus my time and effort where it matters most – in the field building relationships and encouraging my teams, which is what I love to do."                                                                                                                                                                                                  QuiAri's revolutionary Compensation Plan with industry-first Same Day Pay has been the talk of the industry. Tanya calls it the "icing on the cake" because it is such a unique and compelling benefit. She said that many people on her team joined because of Same Day Pay.
"Same Day Pay is unheard of in this industry. No other company pays commissions in just 5 minutes. QuiAri's Founder and CEO, Bob Reina has a world-class, in-house I.T. team that creates revolutionary custom programs and applications, which is why the company is famous for many industry-first benefits.

It sometimes takes other companies months or years to roll out new technology. At QuiAri, you might have a new enhancement or feature available to you in just weeks,"
stated Tanya Sanderson.
Bob Reina has helped generate momentum in the 200 countries QuiAri serves by offering generous incentives to help Promoters grow their business quickly.
He recently surprised Promoters by temporarily lifting rank requirements through December 2021. This is on top of current promotions and incentives already available to Promoters.
"We've helped countless people around the world improve their health and earn extra income, but there is much more room for growth.

If it takes a little more money to spread the word faster or create healthy competition among Promoters, I'm willing to do whatever it takes. You can't put a price tag on changing lives,"
stated Founder and CEO, Bob Reina.
Tanya's said that QuiAri has 100% changed her life for the better and is helping her change the lives of future generations.
"I'd like to create a life that I don't have to take a vacation from. By that I mean, living debt-free and giving my children and grandchildren their dream lifestyle. I feel like the sky is the limit here at QuiAri.

We have amazing leadership, amazing products, and the most powerful momentum of any company I've ever seen.

I'm proud to be part of this company and serving as an example to others that where you start in life doesn't have to determine how you finish. There is unlimited opportunity for success for anyone that wants it,"
said Tanya Sanderson.
About QuiAri
QuiAri is the #1 health and weight loss movement in the world today. Featuring exclusive, breakthrough products (QuiAri Shake and QuiAri Energy) featuring the world's new #1 superfruit, the Maqui berry, people everywhere are losing weight, boosting their energy levels, and improving their health.
What started as an idea has now become a worldwide phenomenon, gaining a passionate following in over 200 countries. But that's not all! We boast an exciting opportunity to promote QuiAri products and earn commissions within 5 minutes after each sale through industry-first, state-of-the-art payment technology.
Combining unrivaled products with the fastest payout, the fastest cycling binary, and one of the highest-paying compensation plans in the industry, there's no doubt QuiAri is helping people live healthier, happier lives. To learn more, please visit quiari.com.
*These statements have not been evaluated by the Food and Drug Administration. These products are not intended to diagnose, treat, cure, or prevent any disease.
Income Disclosure Statement
Please note the QuiAri business opportunity offers unlimited income potential. However, QuiAri makes no guarantee of financial success. Success with QuiAri results only from successful sales efforts, which require hard work, diligence, skill, persistence, competence, and leadership. Your income will depend upon how well you exercise these qualities.
Recommended Distributors QuiAri