1,000 BE Distributors To Enjoy An All-Paid Caribbean Retreat
January 7, 2022
By Team Business For Home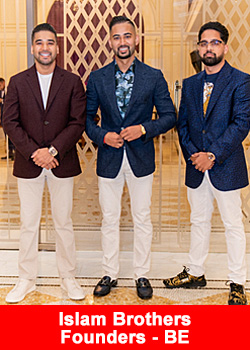 What's the best way to set the tone for the next 12 months? The answer, the BE Dream Caribbean Cruise.
Over a thousand BE Distributors will be indulging in a wonderful trip across five sunny and pristine islands this January. BE is definitely setting the bar high once again, starting the new year by giving its community the best relaxation plus training to set goals for a good year.
Each location has its unique experience offering, from food, views, places, activities, and people. Imagine beaches, lagoons, the freshest seafood, the rich culture, and interesting locals.
An exciting jaunt, a relaxing vacation, or a trip filled with local culture, the Caribbean region is, without a doubt, a paradise. It's the prime destination for holidays and, of course, cruises.
BE Founders Monir, Ehsaan, and Moyn Islam said:
"We want to express to our distributors how thankful we are for them.

They are the most incredible group of people who refuse to settle, uniting us in a mission to break free of unnecessary barriers and challenge the impossible.

They inspire us every day, and throughout it all, we're reminded to always come to what's more important – them (BE distributors).

This retreat is to celebrate all their hard work, dedication, and success in one of the best places on earth – the Caribbeans." – 
Greeting the BE distributors at every port will be a special welcome, a beach party, as well as many beautiful sights and fun things to do! Its specially curated itinerary will be an adventure.
Several exclusive events will be held on the cruise ship, so there's never a boring moment. BE distributors will also have the freedom and exquisite choices of views to spend some serene time if preferred.  Check out their website for more information.
About BE
BE is a next-generation ecosystem made up of a unique concept of 'Live & Learn' which includes e-learning and travel platforms with a comprehensive set of tools for independent business owners.
The BE ecosystem uses artificial intelligence technology, to offer a decentralized, transparent, and empowering space for people from all walks of life, regardless of their educational or financial background, to build their very own multimillion-dollar business from their smartphone.
For more information, please visit www.berules.com
Recommended Distributors BE