Helo Chairman's Award 2021 winner is Vyvo Network Japan
January 16, 2022
By Nicole Dunkley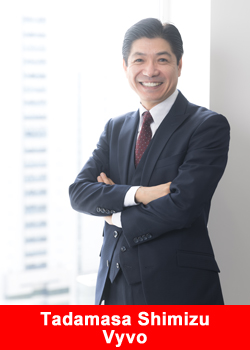 Helo Corp. a leading developer of wearable, wireless devices at the forefront of digital health and dedicated to improving wellness worldwide, and parent company of Vyvo, is pleased to announce that Vyvo Network Japan KK employees have won the 2021 Helo Chairman's Award.
The Helo Chairman's Award recognizes an exceptional individual, or team performance, that had a significant impact on the Vyvo business.
This is the first year for this annual award, granted for outstanding achievements such as driving impressive financial results, building strong team performance, and successfully introducing new processes, which contribute to the well-being and success of Vyvo and its employees.
The allocation of this award is decided exclusively by the Helo Corp. Chairman, Mr. Fabio Galdi. At the end of December, he has announced that the first Chairman's Award goes to Vyvo's top-performing office for 2021, Vyvo Network Japan KK.
Mr. Galdi, stated that
"After much deliberation, I am delighted to select Vyvo Network Japan for this award.

Everyone is aware that this past year has been extremely challenging, however, this did not stop Vyvo. I am proud to work with such resilient and resourceful colleagues who hail from all over the world.

My only regret is that I cannot present this award personally due to travel restrictions." He continued, "It was a difficult decision as there were many strong contenders for the Chairman's Award, in all areas of Vyvo's business activities.

However, the Japanese team, led by their inspirational GM, Mr. Shimizu, excelled in their team approach, which delivered  impressive financial results as well the Chairman's Award for every Vyvo employee in Japan."
The precise details of the Chairman's Award, which comes in the form of a January 2022 bonus this year, and is in addition to any other employee performance bonus.
Not only is Japan leading with Vyvo's high-tech patented wearables, this award is a true reflection of how many people they are helping behind the scenes and in the field through the most unique and successful hybrid business model out there.
About Vyvo Inc.
Vyvo is on a mission that has created a lucrative home-based tech business empowering millions of people worldwide to maximize online revenue focused on precision health, prosperity, and economic well-being. Members are continuously rewarded for wearing their Vyvo LifeWatch while effortlessly contributing their biodata anonymously to a unique Global Health Fintech Platform, enabled by patented Life Sensing Technology™ and secured by Binance Smart Chain technology making the very first rewards program build on Smart Chain Contracts.
Vyvo is a Silicon Valley-based technology company that creates sophisticated wearable technology – proven leaders in innovation with devices that protects, monitors, and empowers people who seek an overall enhanced lifestyle. Vyvo's technology-driven mission has inspired the first self-funded Digital Health Sharing Economy where everyone can prosper. For more information, please visit Vyvo.com and join Vyvo's Facebook Community.