QuiAri 2022 Enhancements Go Live: Brace For Impact
February 24, 2022
By Nicole Dunkley
Launch Day has arrived at QuiAri. Highly anticipated new enhancements were released on Tuesday, February 22, 2022, with Founder and CEO, Bob Reina leading the virtual global celebration
"Before the enhancements were released, we had one of the most generous Compensation Plans in the industry. Now it's even better – our Promoters were given a raise.

Prior to launch, we provided all Promoters worldwide an opportunity to review the enhanced Compensation Plan, so they were ready to hit the ground running – which they certainly did! Tuesday, February 22, 2022, our Enhancement Launch Day, was record-shattering.

No time was wasted. We saw Promoters make big moves soon after the enhancements went live,"
said QuiAri Founder and CEO, Bob Reina.
QuiAri is already well-known throughout the industry for their revolutionary products and innovative resources – including industry-first Same Day Pay.
They are the first and only company in the industry to pay commissions worldwide in less than 5 minutes, the first to introduce the Maqui Berry, the world's new #1 superfruit, to the global marketplace, and the first company to launch in over 200 countries worldwide. 
Many industry experts wondered what more QuiAri could possibly offer their Promoters. As it turns out, quite a bit:
REFER 2 AND IT'S FREE: Opportunity To Earn Free Product
NEW BINARY CYCLE: 100 SV + 100 SV = $10 USD commission
TEAM COMMISSION RANK QUALIFICATIONS PERMANENTLY REMOVED
RISE TO THE TOP OF THE COMPENSATION PLAN BY ONLY PERSONALLY SPONSORING 2 PEOPLE
FAST START BONUSES ADDED TO ALL INITIAL PRODUCT ORDERS
INCOME CAPS AT THE LOWER RANKS WERE REMOVED
A NEW 5-DAY SAMPLER FOR $25 USD
NEW 10 PACK
CUSTOMER BONUS – 20% Of Sales Volume
TRY. LOVE. SHARE. LAUNCH PLAN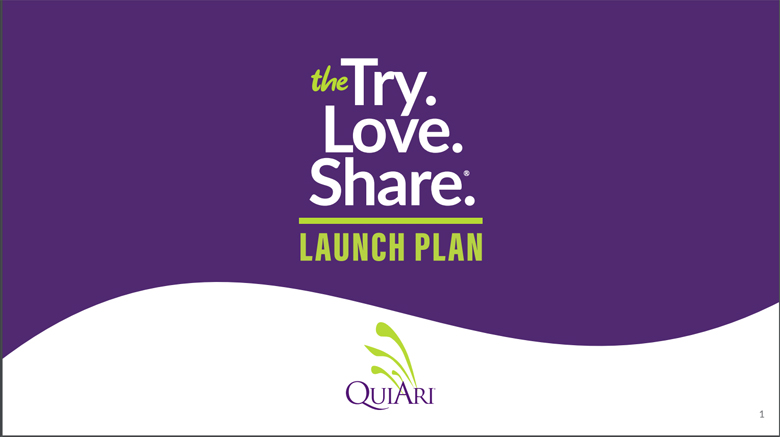 "We have the #1 products, the #1 Opportunity, and an executive team with over 150 years of combined MLM experience – plus these new enhancements.

QuiAri Promoters are starting their business with every advantage possible AND a step-by-step guide on how to achieve their dream lifestyle through duplication.

Our goal right now is to introduce QuiAri to as many people as possible so they comprehend the immense opportunity that no other company can provide,"
said Director of Field Development, Brad Stewart.
The Try. Love. Share Launch Plan was created by QuiAri to help Promoters get off to a fast start and grow their business. Even if this is their first time starting in MLM, there are easy-to-follow steps that begin on the Promoter's first day and provide tips to help keep their momentum going.
"In addition to the Try. Love. Share Launch Plan, I removed income caps at the lower ranks specifically for Promoters that want the opportunity to achieve success quickly without anything slowing them down.

This incentive was tested in December 2021 and became permanent in this latest round of enhancements. QuiAri is designed to set up people for success – not just when they first join the company, but throughout their entire time as a Promoter,"
stated Founder and CEO, Bob Reina.
Also new for 2022 is a new sizzle video. Built for speed, Promoters can now share the excitement of QuiAri's Product, Opportunity and why you should get involved now in just 4 minutes.  
Bob joked about the Corporate team "bracing for impact," as a flood of Promoters and Customers are joining the company and placing orders. QuiAri's VP of Marketing, Allison Roberts responded to the increase in engagement with the QuiAri brand with 3 simple words, "Bring it on!"

"QuiAri is perfectly positioned for growth. We have an amazing team that welcomes more Promoters and Customers with open arms. Our infrastructure is strong, and we are ready to turn this company into the next billion-dollar brand.

This isn't our only initiative planned for 2022. In fact, this is only the beginning. Stay tuned to our weekly Live Events to stay informed about the next big thing coming to QuiAri. 2022 is going to be the BEST year ever,"
said VP of Marketing, Allison Roberts.
 To learn more about QuiAri, their products, and the opportunity to become a Promoter, visit https://quiari.com/en, or follow them on social media @QuiAriOfficial.
About QuiAri
QuiAri is the #1 health and weight loss movement in the world today. Featuring exclusive, breakthrough products (QuiAri Shake and QuiAri Energy) featuring the world's new #1 superfruit, the Maqui berry, people everywhere are losing weight, boosting their energy levels, and improving their health. What started as an idea has now become a worldwide phenomenon, gaining a passionate following in over 200 countries. But that's not all! We boast an exciting opportunity to promote QuiAri products and earn commissions within 5 minutes after each sale through industry-first, state-of-the-art payment technology. Combining unrivaled products with the fastest payout, the fastest cycling binary, and one of the highest paying compensation plans in the industry, there's no doubt QuiAri is helping people live healthier, happier lives. To learn more, please visit quiari.com. 
These statements have not been evaluated by the Food and Drug Administration. These products are not intended to diagnose, treat, cure, or prevent any disease.
Income Disclosure Statement
Please note the QuiAri business opportunity offers unlimited income potential. However, QuiAri makes no guarantee of financial success. Success with QuiAri results only from successful sales efforts, which require hard work, diligence, skill, persistence.
Recommended Distributors QuiAri