Adriaan Pieterse From South Africa Becomes First-Ever International Director At Kannaway
March 2, 2022
By Team Business For Home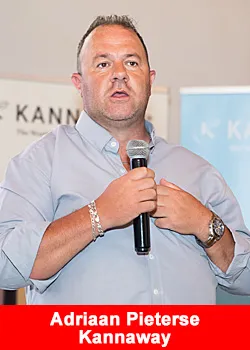 Adriaan Pieterse is an experienced network marketer with 13 years of direct sales experience, previously he worked for the Lusaka government for 19 years.
It's through network marketing where Adriaan can have the type of impact on people's lives by teaching them how to become financially independent. Adriaan explains why:
"I saw how network marketing broke the chains of poverty, and this was my driving force."
In just 3 weeks of joining Kannaway, Adriaan achieved the rank of Regional Director, then rapidly progressed through National Director to the elite rank of International Director.
"I said just a few months ago that we would continue to "Gooi Mielies" (scattering the seeds (corn) of success in Afrikaans), and we have done just that. But we've only just started!"
Just a few weeks ago, Adriaan teamed up with the Kannaway Corporate team to hold an incredible event in Cape Town.  Headed up by Adriaan, a large number of people took on the challenge to conquer their fears, and climbed the iconic Table Mountain.
This experience was followed by an Opportunity event where Kannaway CEO, Blake Schroeder shared the vision and explained just what it means to be part of the Hemp Revolution.
"I'm not going to tell you it's a walk in the park, but my team are all going together in the same direction which is what is at the very heart of our momentum – a strong team, with a big vision and a mission with a purpose. 

I want to take this opportunity to thank God and my entire team for their commitment and dedication."
About Kannaway®
Kannaway® is a network sales and marketing company specializing in the sales and marketing of hemp-based botanical products.
Kannaway® hosts regular sales meetings and conferences across the globe, offering unique insight and opportunity to sales professionals who are desirous of becoming successful leaders in the sale and marketing of hemp-based botanical products. For more information please visit: www.kannaway.com