Jennifer Hyder Launches Big in Velovita
March 9, 2022
By Nicole Dunkley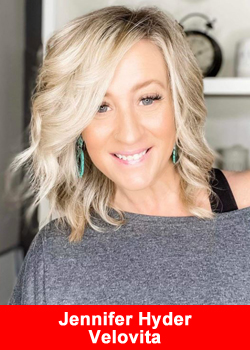 As a stay-at-home mom for nine years to three amazing boys, Jennifer had a full plate. After going through divorce while out of the traditional workforce for nearly a decade (and no college degree), most may have been deterred from starting a business – but not Jennifer Hyder.
"I went into business for myself. My now husband and I went on to open three restaurants and we were in the restaurant industry for almost six years,"
Jennifer shared.
Though she dabbled in network marketing for a year and a half, Jennifer spent a total of five years in the industry, even while she owned restaurants.
Clearly with a business savvy head on her shoulders, Jennifer saw the income potential and shared, "I sort of used it for fun money to take vacations, buy extra Christmas gifts, maybe a shopping spree once in a while. Then in December 2018, this industry saved our family.
We'd lost everything we worked so hard to build in the blink of an eye. Our restaurants were gone at no fault of ours and our life savings, gone." Equipped with the entrepreneurial mindset she'd gained, Jennifer was ready to go full time in direct sales.
After only nine months of working consistently, Jennifer was able to replace her previous full-time income and the income of her husband. It allowed her to stay home with her children and was the first time she ever made a 6-figure+ income on her own.
What keeps Jennifer going? Given her prior circumstance, it was about the money at first.
"How could it not be? We'd lost everything. The longer I spent in our industry though, and the more people who joined, ended up changing my whole outlook,"
she shared.
"For me, now it's the relationships, the friendships, and seeing others win too! You just can't put a price tag on relationships that stay with you for a lifetime. It's an amazing feeling to be part of helping change someone else's life,"
adds Jennifer.
Still, with so many direct sales companies, why Velovita? 
Jennifer shared,
"For me to leave and go to another company, it had to check all the boxes. I had a long list. I had been watching Velovita for a few months.

For me, they had a specific product that I was really interested in, so I reached out. They are amazing at marketing; their compensation plan is unique, and really set up for everyone to win."
Winning was definitely achievable for Jennifer who in just two short weeks was able to reach the noteworthy leadership rank of All-Star Elite! 
Velovita's Co-Founder & President, Jeff Mack added, "It's exciting for us when leaders like Jennifer, who've lived the direct sales industry and experienced other options out there, choose Velovita.
We love that leaders recognize how unique it is to build a successful future with us, and we welcome them with open arms. We're thrilled for Jennifer's success and can't wait for her to reach even more people to help them on their journey, while she continues to succeed throughout hers."
On the note of being unique, Velovita launched just short of two years ago and has already expanded into new areas as a global company. Jennifer shared,
"building with a global leading company is so extremely important!!! Especially as someone who has family overseas, it's such a huge thing. Having the ability to build a customer base and team outside the states is such a blessing with so many possibilities!"
When it comes to choosing her home with Velovita, Jennifer added three noteworthy reasons: 
"#1, I absolutely love that the products are simple, sleek, sexy and they work. You could feel them working almost immediately. When you believe in something like that, it's easy to get behind 100%.

#2, the compensation plan and being paid for your efforts.

#3, the culture. I've watched people walk away from major incomes because they felt like they were just a number. Velovita's culture has been my favorite part and I've found a place to plant my flag.

My success here happened very quickly, and I believe it's a testament to what we have, the right timing, the right opportunity, the right products, and definitely the right people.

When you listen to your gut, and step out on faith, your life can change. I know I'm just getting started, and I can't wait to change as many lives as possible!"
About VELOVITA
Founded on 90+ years of operational and field success, VELOVITA is rapidly becoming a global leader of innovation in the field of biohacking, social selling, community expansion and support for the new world entrepreneur. Their mission is to provide an ecosystem of inspiration, education, and life enrichment. VELOVITA has a singular focus on the individual to increase their daily performance both mentally and physically.
For more information on VELOVITA, please visit Velovita.com or Velovita's Facebook page. You may also contact us at [email protected] To join the new movement, click here for the Velovita Member Rewards. We know you'll #LOVIT!
Recommended Distributors Velovita