QuiAri Hires Roy Truett As Chief International Officer
March 4, 2022
By Nicole Dunkley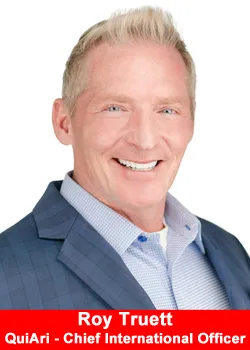 Last week, QuiAri made headlines for the release of revolutionary, industry-first enhancements that essentially gave all of their global Promoters a raise. This week, the excitement continues with a major addition to QuiAri's already robust Executive Team.
Founder and CEO, Bob Reina, has hired Network Marketing industry powerhouse Roy Truett to serve as QuiAri's Chief International Officer. With decades of experience serving as CEO, COO, and President of some of the most successful multi-billion-dollar MLM companies and success in growing businesses overseas, Roy fits right in with QuiAri's heavily pedigreed Executive Team with over 150 years of combined MLM experience. 
"I've devoted nearly my entire career to helping people improve their health and wellness. I'm so glad I have this opportunity to work closely with Bob Reina.

I had obviously heard about QuiAri's revolutionary products, generous Compensation Plan, and Same Day Pay (commissions paid within 5 minutes) before joining the company.

What I didn't realize was how closely my goals are aligned with Bob's. The health of people around the world is declining at an alarming rate. Bob has found a solution in Maqui, the world's new #1 superfruit, and their proprietary super-concentrated extract, MaquiX®.

The products taste delicious, are very easy to take, and have proven results through countless testimonials. It is truly an honor to be part of QuiAri and I can't thank Bob enough for this opportunity to be a part of creating MLM history on a daily basis,"
stated Chief International Officer, Roy Truett.
Roy, who is originally from South Carolina, is a multi-faceted leader with one of the most diverse skillsets in the industry. Prior to joining the Direct Sales industry, held prestigious, Director-level positions in Information Technology. He was Director of I.T. for Humana, Inc, Manager of International and Government Programs at Aetna, and a Proposal Manager at Blue Cross/Blue Shield.  
"I enjoyed my time helping traditional brick-and-mortar global businesses thrive, but there was something about the Direct Sales Industry that I couldn't resist.

Once it got in my blood, there was no shaking it. I think because Network Marketing can help ordinary people live extraordinary lives through providing an opportunity to share in the company's success.

I was very fortunate to have been given an opportunity to transition from being an I.T. lead to leading entire Corporations as Chief Executive Officer, Chief Operating Officer, and President.

I am an entrepreneur at heart and started my own business right out of high school. I sold the company and took the proceeds to put myself through college. I'm very familiar with what it takes to make a company thrive, especially in this industry given my decades of experience and success.

From what I've experienced in the short time I've been here at QuiAri, I know that Bob is doing everything right. I'm very impressed with the caliber of talent he has acquired. I'm excited to be here. This is a company destined to do great things and I'm happy to be able to help contribute,"
said Roy Truett.       
As QuiAri's Chief International Officer, Roy will have an opportunity to develop strategies for continued growth in QuiAri's 200+ countries they currently serve as well as expansion into new countries. 
"I can't say that global expansion is easy for any company, but QuiAri has really set the table for success.

Their value proposition is one of the strongest I've ever seen – first company with Same Day Pay, a generous Compensation Plan with one of the highest payouts, products that are effective and taste delicious, and leadership with strong ethics and integrity.

It's obvious that QuiAri has grown in the last several years, but what sometimes goes unnoticed is that they are growing the right way. I have a lot of respect for companies like QuiAri that refuse to cut corners,"
said Roy Truett.
Roy currently lives in Utah and lives a very active lifestyle. He enjoys exercising and spending time outdoors with his family. 
"I'm now a product-of-the-product. QuiAri Shake and Energy have helped give me the strength and energy to enjoy all of the outdoor activities here in Utah.

I love skiing, mountain biking, hiking, golf, snowmobiling, fishing, and, of course, traveling.

I can feel the difference if I forget to take my morning shake and Energy tablet. I understand why QuiAri has so many superfans around the world. These are extraordinary products made by an extraordinary company,"
said Roy Truett.
 To learn more about QuiAri, their products, and the opportunity to become a Promoter, visit https://quiari.com/en, or follow them on social media @QuiAriOfficial.
About QuiAri
 QuiAri is the #1 health and weight loss movement in the world today. Featuring exclusive, breakthrough products (QuiAri Shake and QuiAri Energy) featuring the world's new #1 superfruit, the Maqui berry, people everywhere are losing weight, boosting their energy levels, and improving their health. What started as an idea has now become a worldwide phenomenon, gaining a passionate following in over 200 countries. But that's not all! We boast an exciting opportunity to promote QuiAri products and earn commissions within 5 minutes after each sale through industry-first, state-of-the-art payment technology. Combining unrivaled products with the fastest payout, the fastest cycling binary, and one of the highest-paying compensation plans in the industry, there's no doubt QuiAri is helping people live healthier, happier lives. To learn more, please visit quiari.com.
Income Disclosure Statement
 Please note the QuiAri business opportunity offers unlimited income potential. However, QuiAri makes no guarantee of financial success. Success with QuiAri results only from successful sales efforts, which require hard work, diligence, skill, persistence, competence, and leadership. Your income will depend upon how well you exercise these qualities.
These statements have not been evaluated by the Food and Drug Administration. These products are not intended to diagnose, treat, cure, or prevent any disease.
Recommended Distributors QuiAri