10-Year MLM Industry Star Tonya McAdoo Joins QuiAri
April 15, 2022
By Nicole Dunkley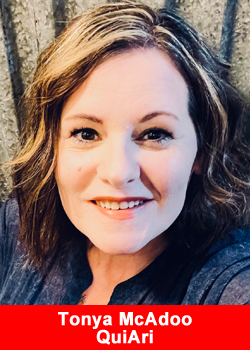 QuiAri Promoter Tonya McAdoo from Texarkana, Texas is not new to the Direct Selling Industry. In fact, 10 years ago she joined a cosmetics company thinking it was a sales job. It was that opportunity that taught her what the industry was all about and has impacted her life in so many ways.  
"I had no idea what I was getting into. There was no training, no one to show me how MLM worked. I was given some brochures and a starter kit and was told to 'just make sales."

It wasn't the best first impression of the Direct Sales industry, but it made me appreciate companies like QuiAri that take excellent care of their Promoters,"
said QuiAri Promoter, Tonya McAdoo.
Tonya was introduced to QuiAri by her friend, Green Diamond Promoter, Sabra McCraw. They worked together in a previous MLM company. Sabra retired from the industry only to recently return to join QuiAri.
"We had both decided to take a break from the industry around the same time. I was working as a mobile X-Ray Technologist and Sabra was retired.

When she told me she joined QuiAri, I was both surprised and curious. Sabra is not the kind of person that would leave her dream lifestyle unless it was an amazing opportunity.

She sent me some samples, and I finally understood why she was so fired up about his company,"
said Tonya McAdoo.
On the very first day, Tonya noticed a difference in her energy levels. She didn't feel the normal mid-afternoon slump, so she cleaned her house, cooked dinner, got laundry done, and took care of her grandkids. 
"QuiAri Shake was delicious and curbed my appetite, and QuiAri Energy worked exactly as promised. I have 4 adult children, 5 grandkids, 2 nieces, and a very active dog named, Piper.

I've never been able to keep up with everyone at the same time, but now I run circles around them! Plus, I lost 15 pounds just like that. The products are the BEST,"
said Tonya McAdoo.
Tonya joined QuiAri as a Promoter and continues having great success sharing QuiAri products and Opportunity. Unlike her first MLM company, QuiAri gave her all the tools needed to grow her business, including training, starting on her very first day.
"QuiAri has an amazing Portal. The Try. Love. Share Launch Plan is designed to teach me how to grow my business.

I have pre-made social media posts I can copy and paste into my own account, the World's First Real-Time Free Tour Marketing System I can use to stay in touch with Prospects, world-class Opportunity Videos hosted by QuiAri Founder and CEO, Bob Reina, and more.

The support at QuiAri is beyond generous, and it's all 100% free,"
stated Tonya McAdoo.
In addition to QuiAri's robust Promoter resources, their generous Compensation Plan has also generated a lot of buzz throughout the industry. It's the world's fastest-paying Compensation Plan in ANY industry – not just MLM. Promoters around the world are paid commissions earned in just 5 minutes. How is this possible? QuiAri has a brilliant in-house I.T. department that executes the visions of Founder & CEO, Bob Reina.
 If we can dream it, our I.T. Team can do it. You won't find Same Day Pay or anything like our Real-Time Free Tour Marketing System because they are proprietary to QuiAri.

We were also one of the first to launch a company in over 200 countries worldwide. That took a little more than just I.T. magic. It was a team effort.  QuiAri's Corporate Team is the best of the best at what they do,"
stated QuiAri Founder & CEO, Bob Reina.
Tonya believes QuiAri's Executive Team, led by Bob Reina, is the primary reason behind QuiAri's rapid growth. With over 150 years of combined MLM experience, they are the masterminds behind the company's expansion into markets that are often difficult to enter – even for some multi-billion-dollar companies.
"QuiAri is truly a global opportunity. QuiAri provides nearly all of their marketing materials in 6 different languages.

If I have a Prospect that only speaks Spanish or French, I'm able to send a Compensation Plan, Opportunity Presentation, and even many videos fully translated into their native language,"
said Tonya McAdoo.
Tonya's dream for the future is to achieve QuiAri's top rank of Purple Diamond. Once she gets there, she plans on spending more time with her family and traveling more.
"I can work from anywhere with QuiAri, so I'd love to get out and see the world. all while promoting QuiAri products at every destination.

QuiAri has changed my life. I would never stop being a Promoter and give up the chance to help others do the same,"
stated Tonya McAdoo.
To learn more about QuiAri, their products, and the opportunity to become a Promoter, visit https://quiari.com/en, or follow them on social media @QuiAriOfficial.
About QuiAri
QuiAri is the #1 health and weight loss movement in the world today. Featuring exclusive, breakthrough products (QuiAri Shake and QuiAri Energy) featuring the world's new #1 superfruit, the Maqui berry, people everywhere are losing weight, boosting their energy levels, and improving their health. What started as an idea has now become a worldwide phenomenon, gaining a passionate following in over 200 countries. But that's not all! We boast an exciting opportunity to promote QuiAri products and earn commissions within 5 minutes after each sale through industry-first, state-of-the-art payment technology. Combining unrivaled products with the fastest payout, the fastest cycling binary, and one of the highest-paying compensation plans in the industry, there's no doubt QuiAri is helping people live healthier, happier lives. To learn more, please visit quiari.com.
Income Disclosure Statement
 Please note the QuiAri business opportunity offers unlimited income potential. However, QuiAri makes no guarantee of financial success. Success with QuiAri results only from successful sales efforts, which require hard work, diligence, skill, persistence, competence, and leadership. Your income will depend upon how well you exercise these qualities.
These statements have not been evaluated by the Food and Drug Administration. These products are not intended to diagnose, treat, cure, or prevent any disease.
Recommended Distributors QuiAri