Rosie Lopez Goes From Salsa Dancer To QuiAri Rising Star
July 8, 2022
By Nicole Dunkley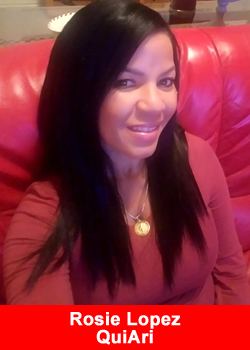 Back in its heyday, the Tropicana Cabaret in Havana, Cuba was the place everybody on the planet wanted to be.
QuiAri Rising Star Promoter Rosie Lopez knows because she started her career as Professional Salsa Dancer there.
The Tropicana became such a famous international hotspot that Rosie was given an opportunity to go on tour, entertaining people in different countries around the world with her salsa dancing.
"I loved dancing and traveling the world. I even had a chance to perform with Spanish Rock Legend, Carlos Santana.

Both of my knees were shot by the end of the tour, and I didn't want to go back to Cuba.

My dance career was coming to an end, so I settled in the United States and started teaching dance lessons to help pay the bills.

I also managed a restaurant, so I was working two jobs and that was difficult. A friend referred me to Network Marketing because I was looking for nutritional products to help me lose weight, and a way out of working two jobs. That is what led me to QuiAri,"
stated QuiAri Shooting Star Promoter, Rosie Lopez.
The search for better nutrition led Rosie to Legend Promoters Minh and Julie Ho and Champion Promoter, Walter Suarez. They sent product samples to Rosie to help her look and feel better.
"I' was usually exhausted by the end of the day after working in the restaurant, but not when I drink my QuiAri Shake or take my QuiAri Energy.

I could feel it working throughout my body, mind, and soul. Now I never skip a day because it balances me out. Even my skin and hair were affected by the power of the Maqui Berry, the world's new #1 superfruit, and MaquiX® QuiAri's super-concentrated, proprietary extract,"
said Rosie Lopez.
Rosie's love of QuiAri products led her to the Business Opportunity. Her only past industry experience was an MLM she joined over 30 years ago, and it did not end well. The company folded almost as soon as she joined. QuiAri was the first opportunity she ever considered joining since that day.
"Fortunately, I listened to my heart. I had a good feeling about QuiAri and it has, without a doubt, paid off.

I've never been happier being able to help people around the world achieve their dreams while looking younger and feeling better.

Plus, I'm earning Same Day Pay after every sale. This is my first time ever building a business, putting in the work, and watching it grow. I feel very blessed to be part of the QuiAri family,"
said Rosie Lopez.
QuiAri Founder & CEO, Bob Reina said that global demand for products is at an all-time high and that people are rushing to join the company as both Promoters and Customers. 
"Our global expansion plans are going very well and moving FAST. While most companies focus on opening one country at a time, we work on either opening or growing business in multiple countries at once.

Our diligence is creating new opportunities for Promoters like Rosie Lopez. Rosie is from Cuba, lives in the United States, and can easily share QuiAri with Prospects thousands of miles away all because of our efforts here at the Corporate Office in Tampa.

All of our documents, brochures, and training materials are translated and available for free in our Portal to all Promoters 24/7, 365 days a year. It's one of the things that makes QuiAri different. Promoting internationally is seamless,"
stated Founder & CEO, Bob Reina.
Everyone in the industry has been impressed with Bob Reina's plan to bring better health and an opportunity for financial freedom to people all over the world.
QuiAri has the fastest-paying and one of the highest-paying Compensation Plans in the industry as well as proprietary products not found anywhere else, but that is just the tip of the iceberg. QuiAri has the momentum of a multi-billion-dollar company, yet its Simple Sample System is easy to duplicate.
"Many of my friends have joined QuiAri and are so happy with the level of professionalism and support. I've come a long way from being a dancer to where I am today.

I'm still dancing today, but for a different reason. I dance every time I hear the Cha-ching sound go off in my QuiAri mobile app because that means I just got paid,"
said Rosie Lopez.
Rosie is excited and ready to get to QuiAri's top rank of Purple Diamond, but her dream is to see many people on her team get there as well. 
"We work hard at QuiAri because there are many ways to be rewarded. Founder & CEO, Bob Reina is an inspiring leader that values us as people as well as Promoters.

I've learned a lot from him already and I've only been with QuiAri a short time,"
said Rosie Lopez.  
About QuiAri
QuiAri is the #1 health and weight loss movement in the world today. Featuring exclusive, breakthrough products (QuiAri Shake and QuiAri Energy) featuring the world's new #1 superfruit, the Maqui berry, people everywhere are losing weight, boosting their energy levels, and improving their health. What started as an idea has now become a worldwide phenomenon, gaining a passionate following in over 200 countries. But that's not all! We boast an exciting opportunity to promote QuiAri products and earn commissions within 5 minutes after each sale through industry-first, state-of-the-art payment technology. Combining unrivaled products with the fastest payout, the fastest cycling binary, and one of the highest-paying compensation plans in the industry, there's no doubt QuiAri is helping people live healthier, happier lives. To learn more, please visit quiari.com.
Income Disclosure Statement
Please note the QuiAri business opportunity offers unlimited income potential. However, QuiAri makes no guarantee of financial success. Success with QuiAri results only from successful sales efforts, which require hard work, diligence, skill, persistence, competence, and leadership. Your income will depend upon how well you exercise these qualities.
These statements have not been evaluated by the Food and Drug Administration. These products are not intended to diagnose, treat, cure, or prevent any disease.
Recommended Distributors QuiAri