Alex Ramos From Mexico Achieves Triple Diamond Rank At DECENTRA
August 20, 2022
By Team Business For Home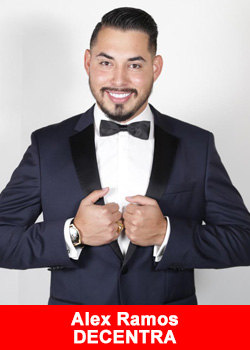 Alex Ramos a bright young leader dedicates all his effort to taking DECENTRA at every time higher levels.
Although Alex's experience in the network marketing industry is only 3 years and a little more, he is, without any doubt, a professional networker. He admits that his rousing success is probably due to the fact that he understood some important concepts of this business from the very beginning of his career:
"I wouldn't chase the money. Many people starting in this industry focus on earning money and only that. But in order to get that desired pay check, you must first go through the process, learn and develop your skills and abilities.

That's what I did: I learned from the best mentors in the industry and I practiced. And in the end, it's a team effort: when their pay checks rise, yours will rise, too, inevitably."
Alex is constantly applying his own advice and is in continuous personal development, and that shows as he has recently reached the rank of Triple Diamond. He tells us about this achievement:
"Without a doubt this rank means that I'm able to set and trace the path for many people to their dream lives. Also, it goes to show that alone, you can go fast, but with a team, you get further.
The process to this rank was very important to me. I don't say difficult, but important, because it forges the character of every leader who goes through it.
Yes, there are people out there who might want to discourage you and frustrate your growth as an entrepreneur, but frankly speaking, at this level of professional and personal development that we are talking about you don't even get to think about it. All you're focused on is moving forward and helping those who ask for help.
And there is a world of people who need it, who we want to bring with us to these levels. This is why I do MLM: it's not me, it's the people we can impact."
Alex tells us about the moment he received the rank of Triple Diamond and describes it as a very happy one, for obvious reasons; the happiness, however, about the fact of having helped over four thousand people in 30 days, who had trusted him and were on their ways to achieving their goals:
"When someone starts on my team, they have my full commitment to help them to go as far as they want to go. And they will if they apply my approach to the business.

I've always said that it's not who knows more, but who knows first. Meaning the process is key and one must first learn and develop their skills until becoming a master, and the results come on their own."
Alex is clearly passionate about leadership and service, so much so that he is seriously considering undertaking career in politics.
"I'm starting a journey to create a political career focused on helping to move people forward. I'm aspiring to become the President of Mexico in 24 years to serve my country and be able to get the best out of my people. The key to this dream is always to be of service."
Finally, Alex leaves us a message of inspiration:
"You must live your life with intention. Many people limit themselves to a simple survival, but this won't take them anywhere. Start living truly focused on a defined purpose and have your direction clear in your mind. And don't forget to be grateful."