Gustavo Mendez From Mexico Achieves Double Diamond Rank At DECENTRA
August 30, 2022
By Team Business For Home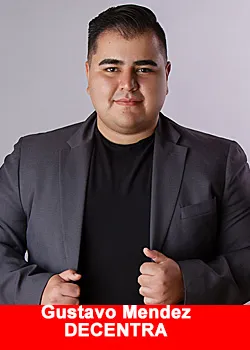 Gustavo Mendez is a new star within the DECENTRA leadership team.
Gustavo has been in the MLM business for over 6 years. He joined the industry when he was quite young, still at university. However, his activity as a businessman started way before that. Gustavo tells us:
"I come from a family of business people, in the Mexico City, and seeing what all my family members were doing, I couldn't but try out trading as well. When I was 8 years old, I started selling sweets at school and in the streets. Since then, I participated in several business start-ups in the traditional industry.

As for network marketing, I found out about it when I was at university, when a friend of mine invited me to listen to a business talk just at the end of class.

I went and listened and that's where I heard about this industry for the first time. It caught my attention so much that I decided I wanted to do this for the rest of my life."
Gustavo was present at the Revelation event, where DECENTRA was officially launched, invited by some of his colleagues in his previous company and was able to meet some of the corporate staff.
"I would really be crazy not to take this once-in-a-lifetime opportunity. At Revelation, I met Shane Morand, Gorka Buces, David Casanova from the corporate, as well as listened to Emmanuel Bernstein, who is a business icon. I quickly understood that at DECENTRA, we will do very big things and create the most disruptive and fastest growing company in the industry.
So far, it has been a journey full of experiences, emotions and surprises. Although the company is so new, it seems like it has been in the industry for decades, all thanks to the brilliant corporate staff and field leadership with many years of experience in the industry. Today, there are companies that have been in the industry for many years and don't have even 10% of what Decentra has achieved."
Gustavo also expresses his hopes that DECENTRA will create a brand-new image of the MLM industry as an opportunity for everyone to go as far as they want and reach everything they put their mind to. And as a conclusion to his interview, he leaves us some words of motivation:
"When I started in the MLM industry, I didn't receive much support. Quite the opposite, it was a lot of mockery and criticism. People would call me a "millionaire boy" sarcastically. However, once I started having results, they began to tell me that they always believed in me and supported me. It was funny.

For you, readers who are in this industry, I want to tell you not to ever give up. Success is a process, and the process is beautiful. Don't compare yourself to anyone, but focus on growing and developing yourself and finding the best vehicle for you, and when you least realize it, you will be inspiring thousands of people with your story."