Violeta Vazquez From The USA AchievesTriple Diamond Rank At DECENTRA
August 27, 2022
By Team Business For Home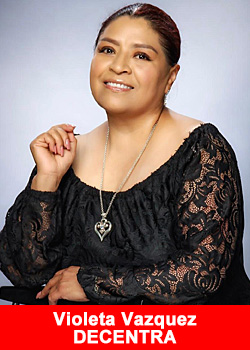 Residing in the United States, Violeta Vasquez is a network marketing professional with over 6 years of experience in the industry. A business woman successful in the traditional industry, Violeta admits that it took her around 14 years to find the right business that would give her the lifestyle she desired.
"I had a house cleaning business and I was doing quite well in it, but I wouldn't find a full satisfaction in what I was doing. One day, I met that person who saw a potential in me and invited me to a meeting.

I decided to start out straight away, and even though the things didn't work out well enough from the beginning, I decided not to give up and insist."
And so it was, Violeta decided to go full time with her network marketing business, leaving aside everything else. She had joined several MLM companies over the years, but without any significant results, until she finally became part of DECENTRA.
"It was Omar Salazar who introduced me to the company. I came across him one day and got impressed by his own achievements and how he was saying that everyone in the company was earning money every day.

I couldn't stop thinking about it and in the end, I contacted Omar and told him I want to join."
Today, Violeta is recognized with the achievement of the Triple Diamond rank at DECENTRA. She never stops looking and moving forward, achieving one goal after another.
"It's been the greatest privilege to be able to really help a lot of people. There are no limits and no excuses: whatever comes up, you find a solution, it's as simple as that.

And you can believe me: if someone who had cleaned houses for twenty years and is now earning what I earn and help so many people to reach their dreamlives, then anything is possible.
The Triple Diamond rank means a lot. It's the unconditional commitment to my team, it's people on my team who are living their dreams or are about to, it's my vision and the vision of the company proving itself day by day, it's learning and growing without limits. It is also discovering that words are alive, that dreams are non-negotiable and that loyalty is not proven by words, only by deeds."
Violeta points out some important qualities and values that are parts of any "magical mixture" of success:
"All of them are equally important. It's resilience, being able to stand and walk forward in the face of any obstacle. It's loyalty and trust in your company, it's essential. It's the ability to take action; I would event say, think less, do more. And it's integrity, being who you are through thick and thin.
Network marketing is synonymous with freedom. And it's for everyone, there is no discrimination or selection here. Take those ingredients and make your success."