Giovanni Fullinck From Curacao Joins QuiAri
October 15, 2022
By Nicole Dunkley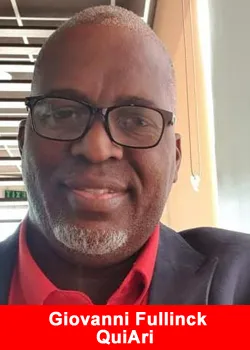 QuiAri Promoter Giovanni Fullinick from Curacao was sick of working long hours and not getting the pay he deserved as a Telecommunications Sales Manager.
He quit his job and found success in the Network Marketing industry.
Now as a QuiAri Promoter, Giovanni has the biggest opportunity of his entire life before him, and he is not letting it go to waste.
"I hated commuting to and from work every day and trying to hit sales quotas that always shifted the closer I got to reaching them.

I discovered Network Marketing and my mindset changed, I became more disciplined, more teachable, and I learned the power of duplication.

Then success followed. Now, as a QuiAri Promoter, I have an even bigger opportunity to achieve my dream lifestyle. We have the #1 Supplements, with the new #1 superfruit, Maqui, the #1 Opportunity with the world's fastest 5–minute pay, and an extraordinary leadership team led by Founder & CEO, Bob Reina, with over 300 years of combined MLM experience,"
QuiAri Promoter, Giovanni Fullinick.
The numbers don't lie – QuiAri is rapidly growing in Giovanni's home country of Curacao as well as throughout the world. What's generating the majority of the buzz behind the QuiAri brand?
The world's new #1 superfruit, the Maqui Berry. Since 600 A.D., the Mapuche people of Patagonia, Chile have long revered Maqui for its health benefits. Modern science has proven the Mapuches to be 100% correct.
Dr. Juan Hancke, QuiAri's Scientific Advisor, received a $5-million-dollar grant from the World Health Organization (WHO) to study Maqui. The results created waves throughout the health and wellness industry.
Maqui Promotes and Supports:
A Strengthened Immune System

Weight Loss

Increased Energy Levels

A Healthy Inflammatory Response

Anti-Aging

Total Body Cleansing

Healthier Skin

Ocular (Eye) Health

Cardiovascular System Health

Healthy Blood Sugar Levels
Dr. Juan Hancke and Bob Reina collaborated to create an antioxidant-rich Shake and Energy tablet with the Maqui Berry and a balanced blend of 24 essential vitamins and minerals, powerful superfoods, long-lasting protein, an exclusive Greens blend, and our proprietary, super-concentrated extract, MaquiX®, which boosts the antioxidant power of the berry 10 times.
"The products aren't just healthy – they are delicious. The vanilla Shake tastes just like birthday cake. The chocolate is rich and smooth. I've never experienced anything like it.

Every other healthy shake I've tried has been good for my health, but difficult to swallow without plugging my nose.

The Energy tablet is also incredible. It works instantly and delivers natural, all-day energy without the crash or jitters,"
said Giovanni Fullinick.
The success of QuiAri supplements worldwide has people around the world rushing to join as Promoters. The company's momentum is impossible to ignore as many Network Marketing leaders clearly see Bob Reina's vision for the future and want to jump in now.
"QuiAri's Compensation Plan is all about helping people take their lifestyle to the next level. The fact that it pays Promoters around the world in just 5 minutes shows you that Bob is not driven by greed.

He has made it extremely easy for people to help themselves both physically with the supplements and financially with the pay plan.

Immediately after joining the business, you get access to a free Promoter Portal and mobile app so you can get started as quickly as possible. If that wasn't enough, you have access to a world-class LIVE support team,"
stated Giovanni Fullinick.
Although Giovanni has quite a bit of Network Marketing experience, he said that the system Bob Reina built is "simple and easy-to-follow."
"QuiAri does business in over 100 countries worldwide. In most opportunities, you are limited to promoting country to country.

Here I'm promoting QuiAri continent to continent, and I still have the flexibility to make my own schedule.

The best part is – I can earn commissions 24/7, 365 days a year and get paid in 5-minutes,"
said Giovanni Fullinick.
Giovanni's goal for the future is to reach QuiAri's top rank of Purple Diamond and then donate 50% of his income to charity. 
"I'm inspired by Bob Reina in that I want to give back once I'm financially able to do so.

I see myself becoming a role model and teacher for people who need a second chance for success,"
said Giovanni Fullinick.
 To learn more about QuiAri, their products, and the opportunity to become a Promoter, visit https://quiari.com/en, or follow them on social media @QuiAriOfficial.
About QuiAri
QuiAri is the #1 health and weight loss movement in the world today. Featuring exclusive, breakthrough products (QuiAri Shake and QuiAri Energy) featuring the world's new #1 superfruit, the Maqui berry, people everywhere are losing weight, boosting their energy levels, and improving their health. What started as an idea has now become a worldwide phenomenon, gaining a passionate following in over 100 countries. But that's not all! We boast an exciting opportunity to promote QuiAri products and earn commissions within 5 minutes after each sale through industry-first, state-of-the-art payment technology. Combining unrivaled products with the fastest payout, the fastest cycling binary, and one of the highest-paying compensation plans in the industry, there's no doubt QuiAri is helping people live healthier, happier lives. To learn more, please visit quiari.com.
These statements have not been evaluated by the Food and Drug Administration. These products are not intended to diagnose, treat, cure, or prevent any disease.
Recommended Distributors QuiAri