Top 100 Direct Selling Company RIMAN, Launches In The USA
October 17, 2022
By Team Business For Home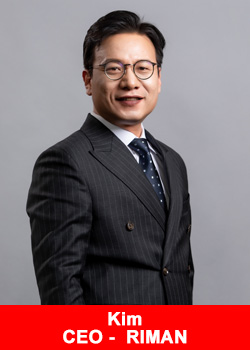 As one of the top K-Beauty brands in the world, RIMAN, INC. is on a mission to change the beauty and personal care industries by combining the beauty secrets Korean women have been using for generations with the power of science and all natural, patented ingredients.
The result is skincare and hair care unlike any other. And now, they're bringing their movement to the U.S.
K-Beauty is premier skincare derived from South Korea that focuses on health, hydration and brightening. For generations, Korean beauty products have been known to use much gentler formulas thanks to natural, unique and harsh-free ingredients. These products promise to create smooth, bright, near perfect skin while using minimal make-up.
RIMAN, INC. launched in Korea in 2018 and is on track to exceed $2 billion in accumulated revenue within their first 4 years.
They have been recognized with 19 industry and quality awards and have sold over 30 million products and counting. Additionally, the brand has attracted several top Korean celebrities as their brand ambassadors, including models, actors and media personalities.
The company offers three product lines. Their skincare line, Incellderm includes a number of products all designed to cleanse, moisturize, nourish and beautify. Additionally, as the company's flagship brand, Incellderm provides cosmeceutical products backed by scientifically substantiated evidence featuring exclusive, natural ingredients.
The personal care line, Botalab, consists of vegan products for hair and body care. And the Lifening line focuses on beauty from the inside out with gut health and collagen products.
 "Our mission is to create award-winning premier products that deliver real results, all while respecting and protecting our environment,"
said RIMAN, INC. CEO KyungJung Kim.
Unlike typical direct selling companies that restrict sales to person-to-person, RIMAN, INC. utilizes a high margin, wholesale business model, in which individuals, known as Beauty Planners by the company, can market through traditional direct selling channels, yet also through both physical and online storefronts.
"More than ever before, individuals are looking for distribution rights to excellent products with high margin," said Kim. "RIMAN provides that and so much more."
In addition to high margins on products sold, Beauty Planners also benefit from a number of other compensation incentives such as a variety of bonuses. And yes, Beauty Planners can market to and through their personal networks in traditional direct selling fashion, all with the full training and support from the company.
This hybrid, high margin model has helped the company climb to number 23 on the Direct Selling News Global 100 list in 2021 after only three full years in business.
"We believe we've created an industry first: Safe, High quality, natural, effective products, guaranteed and backed by science, a one-of-a-kind distribution model and a powerful compensation plan that's second to none,"
said Kim.
After much anticipation globally, RIMAN, INC. is pre-launching in the U.S. on Monday, October 17.
About RIMAN, INC
Founded in 2018 in Korea, RIMAN, INC. is one of the top K-Beauty brands in the world and the 23rd largest direct selling company in the world.
Their award-winning skincare, body care and personal care product lines combine scientifically backed Cosmeceutical Products with patented ingredients and some of the world's most sought-after extracts to deliver real results all while respecting and protecting the environment.
The company's unique wholesale distribution model positions individuals and small business owners to capitalize on the K-Beauty movement. RIMAN, INC. currently operates in Korea and the U.S., with further global expansion on the horizon. To learn more, visit Riman.com.