Celebrity Nutritionist, Best-Selling Author, and Social Media Influencer, Suria Sparks Joins QuiAri
November 19, 2022
By Nicole Dunkley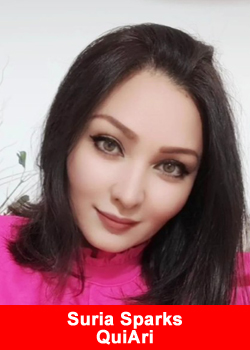 "Just jump and the net will appear" is a favorite saying of QuiAri Rising Star Promoter, Suria Sparks who is from Singapore. It was her mother who first said it and encouraged her to take calculated risks to get to where she wanted to be in life.
"I was lost and didn't know my purpose. I was a daycare teacher for 5 years, a factory worker, and a clerk at a 7-11 (Convenience Store) – I tried everything I possibly could.

After my father died, I decided to get my act together, and in the process, discovered my true passion – health and nutrition.

I got accepted into an exclusive program in the United States. I loved it so much that I didn't care if it would make me rich. I just enjoyed helping people feel good inside and out,"
stated Suria Sparks.
Suria thought she could earn a living by opening traditional brick-and-mortar businesses (a nutrition store and a gym) but nothing seemed to stick, but she refused to give up. Suria eventually discovered social media (and ultimately Network Marketing). Finally, her passion started earning her both money and respect.
"Social Media helped ignite my career, but Network Marketing really helped propelled it forward.

I've been featured on TV as an Expert Nutritionist, co-authored books with Tony Robbins, Deepak Chopra, Dr. Wayne Dyer, and Jack Canfield.

I've been in Network Marketing now for over 9 years and I'm really enjoying it. I've had the opportunity to help people all over the globe, especially since joining QuiAri as a Promoter."
She decided to join QuiAri for many reasons: its reputation for being the #1 antioxidant supplement in the world, their massive 100+ country global reach, and its unmatched Compensation Plan with Same Day Pay. That's commissions paid in 5 minutes or less – the fastest in the industry.
"QuiAri aligned perfectly with my mission. I am educating people around the world about the importance of nutrition and then showing them which products are best suited for their specific needs.

You can't argue with the science of Maqui and the wide range of benefits. It helps promote and support healthy eyes, hair, gut, immune system, joints, weight, energy and more. Dr. Juan Hancke, QuiAri's Scientific Advisor, is the #1 Maqui Berry expert in the world.

Based on his research, QuiAri products deliver a nutritional punch to your body unlike anything it has ever felt before.

Plus, the #1 products are paired with the #1 Compensation Plan in the world. It's lucrative, easy to understand, and pays instantly. I also found the leadership to be very strong.

QuiAri Founder & CEO, Bob Reina is the heart and soul of the company and supports the growth of the business. He works around the clock to make sure we are moving in the right direction. I'm excited about my future and the future of the team I'm building,"
said Suria Sparks.
Suria also noted that the taste of QuiAri Shake is "by far the most delicious" she has ever tried. 
"It's like eating all of my vegetables, but if they all tasted like ice cream. I'm more energetic and focused since taking QuiAri, and my family loves it.

My son has been taking QuiAri antioxidant supplements after strenuous workouts at the gym. He said it's helping him recover faster.

My favorite is the Energy tablets. I finally feel like I have enough horsepower to get through my day. Having antioxidant supplements that are both nutritious and taste extremely good is a rare combination for sure,"
said Suria Sparks.
Considering that Asia is a market with huge growth potential, Suria believes that QuiAri is well-positioned to dominate the Direct Sales industry in Asia and throughout the rest of the world. 
"I have set a personal goal for myself. I'd like to help over a million people achieve better health and financial freedom through QuiAri.

I believe in this company and believe we have the resources to help millions of people on every continent. 

My advice to QuiAri Promoters – focus on helping people, introduce QuiAri to everyone you know, and financial freedom will come. It's that simple,"
stated Suria Sparks.
To learn more about QuiAri, their products, and the opportunity to become a Promoter, visit https://quiari.com/en, or follow them on social media @QuiAriOfficial.
About QuiAri
QuiAri is the #1 health and weight loss movement in the world today. Featuring exclusive, breakthrough products (QuiAri Shake and QuiAri Energy) featuring the world's new #1 superfruit, the Maqui berry, people everywhere are losing weight, boosting their energy levels, and improving their health. What started as an idea has now become a worldwide phenomenon, gaining a passionate following in over 100 countries. But that's not all! We boast an exciting opportunity to promote QuiAri products and earn commissions within 5 minutes after each sale through industry-first, state-of-the-art payment technology. Combining unrivaled products with the fastest payout, the fastest cycling binary, and one of the highest-paying compensation plans in the industry, there's no doubt QuiAri is helping people live healthier, happier lives. To learn more, please visit quiari.com.
These statements have not been evaluated by the Food and Drug Administration. These products are not intended to diagnose, treat, cure, or prevent any disease.
Recommended Distributors QuiAri