Dr. Daniel Beckles Joins Rain International's Scientific Advisory Board
November 2, 2022
By Team Business For Home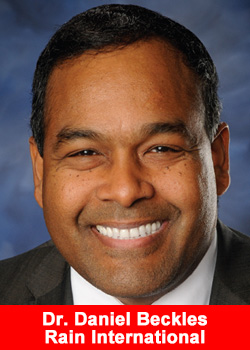 Renowned heart surgeon, Dr. Daniel Beckles, accepts advisory role on Rain International scientific advisory board.
Rain International, a global leader in seed nutrition, recently appointed Dr. Daniel Beckles to their Scientific Advisory Board.
Dr. Beckles received a Doctor Of Medicine and Doctor Of Philosophy In Molecular Biology from SUNY Downstate Health Sciences University. Currently, Dr. Beckles serves as Surgical Director for Heart Transplantation at Baylor Scott & White Health Hospital.
"Rain International understands better than most, how critical our dietary habits are to our overall health, aging and ability to fight off disease. Their success in developing solutions and health-enhancing technologies, aligns seamlessly with my own scientific understanding and discoveries around health and longevity.

It is for this reason I have enthusiastically accepted a position on their Scientific Advisory Board. They represent the future of advancements in nutrition-based health science and I intend on being a contributing factor in that mission,"
said Dr. Beckles.
"We are honored to have Dr. Beckles joining our Scientific Advisory Board and deeply appreciate his commitment to further our efforts of educating the world on the extraordinary health benefits of seed-based nutrition.

He is a world class, highly respected heart surgeon who has seen firsthand the benefits of vascular health. We value his professional insights greatly and celebrate his arrival onto our Scientific Board,"
said Byron Belka,CEO of Rain International.
Dr. Beckles begins immediately in his new role, and is available for additional comment or interviews by request.
About Dr. Daniel Beckles
Dr. Beckles has excelled as the surgical director for the heart transplantation and mechanical circulatory support program at Baylor Scott & White Health Hospital since 2019. Prior to securing this position, he thrived as a senior cardiothoracic surgeon at United Health Services Heart & Vascular Institute from 2018 to 2019 and as chief of cardiothoracic surgery at State University of New York Downstate Medical Center from 2015 until 2019.
He previously served the University of Texas Medical Branch as the director of the minimally invasive cardiac and thoracic surgery programs and as the co-director of the lung transplantation program from 2010 to 2015, in addition to the Mount Sinai Medical Center as a cardiothoracic surgeon and surgical director of the lung transplantation program from 2008 until 2010. He began his professional journey as an associate surgeon at Brigham and Women's Hospital from 2007 to 2008.
About Rain International, Inc.
Rain International is the global leader in seed-based nutrition. They exist to bring the power of seed-nutrition to the world, one person, at a time and provide a catalyst for personal change. Rain believes changing the world begins with each individual.
Rain's mission is to advance the health of every person globally, with seed-nutrition. Those seeking further information or the opportunity to interact with the business as a potential Rain Partner, may visit www.rainintl.com. Inquiries for Rain International and/or Dr. Daniel Beckles can be directed to: Troy Dunn [email protected]
Recommended Distributors Rain International