Rain International Names Nina Salkic Rain Maker Of The Year
November 11, 2022
By Team Business For Home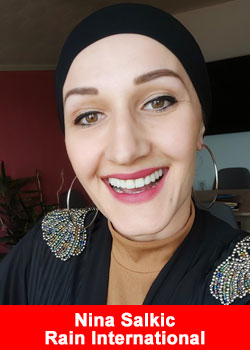 Rain International names Nina Salkic as the recipient of the 2022 Rain Maker Of the Year award.
Salkic resides in Bosnia and Herzegovina. She was recognized during Rain's annual World Seed Summit held in Las Vegas in September.Rain currently does business in 45 Countries and has thousands of independent distributors worldwide, with thousands more joining monthly.
Rain CEO, Byron Belka, presented the prestigious award virtually to Salkic in front of the live international audience in Vegas and worldwide via live video broadcast.
"Nina has overcome what many would consider insurmountable odds, to build a thriving business that is having an extraordinary positive impact in her community and to women around the world,"
Belka said.
"She personifies everything that we stand for as a company, as it pertains to work ethic, integrity and a commitment to bless the lives of others with our products and our opportunity. We are very proud to name Nina Salkic our 2022 Rain Maker Of The Year!"
Salkic has been a Rain Partner since 2016, and in the past six years, has grown from a modest, one-person business to now being one of the largest organizations in Rain International. Nina is also consistently one of the top Rain income earners worldwide and continues to expand her reach to multiple countries beyond her own.
Salkic was surprised to be named the Rain Maker of The Year.
"I was not expecting to be honored with this prestigious award. It wasn't something I was working towards or even thinking about. I have just stayed very focused on accomplishing my goals and helping my team members to do the same.

But I'm very grateful to be the Rain Maker of the year, and will continue to work hard to be worthy of such an honor. I hope others will see what I have done and realize they too can build something beautiful here at Rain that empowers them to achieve many of their dreams the way I am achieving mine."
About Nina Salkic
Nina is the mother of four children, two of whom have been diagnosed with Diabetes. It is the search for health-based products for her children that brought her to Rain International six years ago.
Her personal experience watching the improvements in the quality of her children's lives is what has been the driving force behind her success, inspired her to share her enthusiasm with others, and ultimately lead to her being named 2022 Rain Maker Of The Year. Media Inquiries for Rain International and/or Nina Salkic can be directed to: Troy Dunn, [email protected]
About Rain International
Rain International is the global leader in seed-based nutrition. They exist to bring the power of seed-nutrition to the world, one person, at a time and provide a catalyst for personal change. Rain believes changing the world begins with each individual. Rain's mission is to advance the health of every person globally, with seed-nutrition. Those seeking further information or the opportunity to interact with the business as a potential Rain Partner, may visit www.rainintl.com.
Recommended Distributors Rain International