Nguyen Van Si Achieves Champion Rank At QuiAri
December 10, 2022
By Nicole Dunkley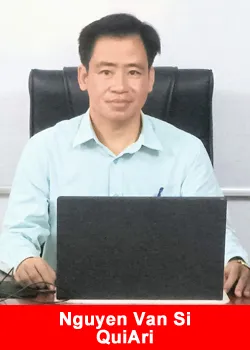 Working long hours in the Construction Industry just wasn't the lifestyle QuiAri Champion Promoter, Nguyen Van Si wanted for his family. Plus, he wasn't making the kind of money that would get him to his dream lifestyle quickly. Fortunately, he discovered the Network Marketing industry at the perfect time in his life.
"I wasn't passionate about my job or my life. I kind of felt like I was just existing, and I was sick of it. I'm in good shape and I like to eat healthy foods. I thought about a career in the nutrition industry. Unfortunately, I had no experience in the field and I couldn't just jump right in.

That's where the Direct Sales Industry helped me get to my dream job. I joined a small health and wellness MLM company and absolutely loved it! When I heard about QuiAri, I saw a huge opportunity to help people on a global scale with one-of-a-kind, nutrition-packed products that provide a wide range of health benefits.

My passion for QuiAri helped me grow my business. I have already reached the high rank of Champion by following the Purple Diamond Guide. I feel great, I'm getting paid commissions in 5 minutes, and I love what I do. This is the stress-free life I've always hoped for,"
stated QuiAri Champion Promoter, Nguyen Van Si.
Nguyen has reached Champion through hard work, but he also believes it is because he is a product-of-the-product and believes in the science behind QuiAri's antioxidant supplements. He used to get very tired during the day, especially in the afternoons. Now he said QuiAri Shake and Energy give him the nutritional boost he needs to "keep his Team on fire."
"Anyone can drink a delicious Shake in the morning and take 1-2 Energy tablets. It's so simple, yet the products are so powerful. I've been more productive than ever since I joined QuiAri and I know it's because of the ingredients, specifically the Maqui Berry,"
said Nguyen Van Si.
Recently re-discovered by scientists, the Maqui Berry is found deep in the mountains of Patagonia, Chile under the most severe environmental conditions. There is a hole in the ozone layer that produces extreme solar radiation, making it difficult for any vegetation to survive. Over centuries, Maqui has adapted to its harsh environment and naturally produces more antioxidants than any other previously known superfruit.
"Maqui outperforms all other superfruits by a very large margin by providing the broadest spectrum protection against all 6 harmful primary free radicals.

It also provides up to 30 times the average antioxidant protection compared to all other Superfruits. QuiAri's Founder & CEO, Bob Reina was the first to introduce Maqui to the global market, and it was an immediate home run.

Now people in every corner of the world want to get their hands on Maqui,"
said Nguyen Van Si.
Even though the Maqui Berry has more antioxidants than other superfruits, such as acai, mangosteen, noni, and blueberries, Bob Reina wanted to take the nutritional value to the next level.
Through a collaboration with Dr. Juan Hancke, who is known in the science community as the leading Maqui Berry expert, they created a super-concentrated, organic Maqui extract called MaquiX®, which boosts the antioxidant power of the berry 10 times.
This proprietary MaquiX® extract can only be found in QuiAri products, giving Promoters an advantage over all other available supplements in the industry.
Maqui supports and promotes
Younger-looking skin

Weight loss 

Increased energy

Reduced inflammation

Smoother, stronger hair

Improved eye health

Better digestion

Stronger immune system

Healthier heart

More productive sleep

And better total body healt
"Having superior products is a gift in itself, but Bob didn't stop there. My Team loves the generous business opportunity that benefits all Promoters around the world.

I've been in this industry a very long time and no other company has ever paid commissions in 5 minutes.

QuiAri's signature 5 Minute Pay has been a blessing for so many people struggling with inflation, unemployment, and just a lack of opportunities in general. QuiAri's plan is built for speed.

With 7 different ways to earn, there are plenty of opportunities to earn money and then immediately pay your bills that very same day,"
said Nguyen Van Si.
Quiara Promoters have also said they enjoy the simplicity of QuiAri's Compensation Plan. Promoters can reach the top rank by Personally Sponsoring only 2 people and the Plan has one of the highest payouts in the industry.
"Promoters are free to market QuiAri in over 100 countries worldwide. Your QuiAri business is global starting from the very first day you join. I didn't think I'd ever have a global business and now I'm watching my dreams come to life. Thank you, Mr. Bob Reina, and thank you, QuiAri,"
stated Nguyen Van Si.
Nguyen's dream is to see his team join him at the top ranks. He empathizes with those stuck in the daily 9 to 5 grind with no Plan B.
"I find my work now to be more emotionally fulfilling. Every time a Promoter or Customer reaches out with a success story about their improved health or how much they enjoy financial and time freedom, it makes me happy.

QuiAri is doing extremely well and growing larger every day. If your friends and family haven't heard about QuiAri yet, they will. Our products, our leadership, and our opportunity are unlike anything this industry has ever seen. 

I'm so proud to be part of this amazing team,"
stated Nguyen Van Si.
To learn more about QuiAri, their products, and the opportunity to become a Promoter, visit https://quiari.com/en, or follow them on social media @QuiAriOfficial.
About QuiAri
 QuiAri is the #1 health and weight loss movement in the world today. Featuring exclusive, breakthrough products (QuiAri Shake and QuiAri Energy) featuring the world's new #1 superfruit, the Maqui berry, people everywhere are losing weight, boosting their energy levels, and improving their health. What started as an idea has now become a worldwide phenomenon, gaining a passionate following in over 100 countries.
But that's not all! We boast an exciting opportunity to promote QuiAri products and earn commissions within 5 minutes after each sale through industry-first, state-of-the-art payment technology. Combining unrivaled products with the fastest payout, the fastest cycling binary, and one of the highest-paying compensation plans in the industry, there's no doubt QuiAri is helping people live healthier, happier lives. To learn more, please visit quiari.com.
These statements have not been evaluated by the Food and Drug Administration. These products are not intended to diagnose, treat, cure, or prevent any disease.
Recommended Distributors QuiAri