Direct Sales Leader & Social Media Influencer, Hannah Reaves Joins QuiAri
January 14, 2023
By Nicole Dunkley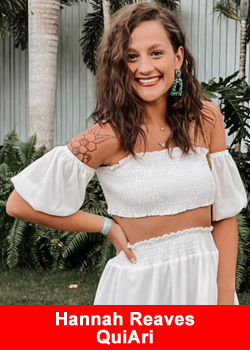 QuiAri Promoter Hannah Reeves was born and raised in a small town in Texas, but it didn't stop her from dreaming big. She was ambitious and driven to succeed. She tried following the traditional path to success through education and work, but soon discovered a faster way to live the life she always wanted – Network Marketing and QuiAri.
"I got married very young. I was only 18 years old – practically a kid – but I had the ambition and mindset of a high-powered CEO. I worked three different jobs – waiting tables, bartending, and behind the counter at a retail country western store. All my money went towards college tuition.

I assumed a college degree was my ticket to a better life, but I didn't feel like I was leveling up.  While I was working and going to school, my husband was doing the best he could with his job as a Laborer. He took as much overtime as possible just to help pay the bills. We couldn't even think about having children with our busy schedules, and that's when we knew we had to make a change. 

A friend introduced me to the Direct Sales Industry, and I jumped at the opportunity. Today, I'm happy to say that I traded my average life working 3 jobs for a happy life as a successful stay-at-home Mom and Social Media Influencer.

As a Network Marketer with 3 beautiful children, I recently joined QuiAri because my family means the world to me, and this is the kind of company that puts me and my family first through their simple duplicatable system. Everything I thought was too good to be true is 100% real with QuiAri,"
stated QuiAri Promoter, Hannah Reaves.
QuiAri's momentum is in full swing as the company recently announced a new product, "The New #1 Antioxidant Gel Supplement" coming soon. Once released, QuiAri Prime will help people around the world with anti-aging and introduces the first nutritional product featuring not only Maqui, the world's new #1 superfruit, and QuiAri's proprietary MaquiX® extract, but also our NEW YouthX Blend.
Hannah recently joined before the announcement of Prime, but was already excited because of the global success of QuiAri Shake and QuiAri Energy.
"A close friend and mentor who I love and respect told me about QuiAri and was so genuinely excited and passionate about this company, I had to learn more. I did a little digging and researched the Compensation Plan, the products, and the Founder & CEO, Bob Reina.

Do you know what I discovered? QuiAri is unique, no games, no Compensation Plan tricks, and no reinventing the wheel. Their business model is simple, duplicatable, and anyone can do it. Bob Reina is known in the industry as a pioneer.

He introduced the world to 5-minute Pay, introduced Maqui to the international market, and a global footprint that has expanded to over 100 countries.

Plus, I don't generally like nutritional shakes, but I LOVE QuiAri Shake. I was blown away by the delicious taste and crave it every day. The Energy tablets are non-jittery, steady, all-day energy that helps this mom of 3 toddlers get through the day. The differences I've seen in just a short amount of time are insane,"
said Hannah Reaves.
Hannah's enthusiasm for QuiAri is shared by Promoters and Customers around the world. The company has received rave reviews about its next-level Products and one-of-a-kind Opportunity. Hannah calls the Compensation Plan and 5-Minute Pay "life-changing" for her and her Team. 
"QuiAri truly has a 'we're all in this together' culture. Communication from the top happens weekly and all Promoters I've encountered have been very nice and very open to sharing with each other. Everyone wants to see you succeed. It's a happiness I've never experienced in my long time in this industry.

Also, what you see at QuiAri is exactly what you get. Bob promises to pay people in 5 minutes and that's exactly what happens, he promises to deliver products and that's exactly what happens.

Treating Promoters with honesty and respect only improves our work ethic. I have found my final home in the industry, and it's now part of my family…there is no better way to describe QuiAri,"
said Hannah Reaves.
She can't wait until the release of QuiAri Prime for many reasons. Hannah is intrigued by the product benefit – Prime promotes and supports healthier cells, reversing the signs of aging and leaving you looking and feeling great. 
"From what we know so far, Bob Reina and Dr. Juan Hancke, QuiAri's Scientific Advisor and the #1 Maqui Berry expert in the world, have created a delicious Maqui Berry-flavored blend of powerful ingredients that can repair free radical damage, protecting your cells against future harm.

I'm especially excited about the YouthX Blend, that's S.O.D, Resveratrol, and Pterostilbene – cutting-edge nutrition with benefits that appeal to everyone. We have a once-in-a-lifetime opportunity to help launch a groundbreaking new product. The best part is, global demand is already growing. You couldn't ask for a better situation to be in,"
said Hannah Reaves.
Hannah has big dreams ahead of her, and that includes setting up her 3 children for success and having the financial means to help others. 
"I can only imagine what it would feel like to have multi-generational wealth. Knowing my children and my future grandchildren are financially secure would mean the world to me.

I also want to help my Team reach their goals. With QuiAri there is no reason why we can't all be successful and comfortable. If we're all in the mindset for success, and take Bob's advice, there is no doubt we'll get there,"
stated Hannah Reaves.
About QuiAri
QuiAri is the #1 health and weight loss movement in the world today. Featuring exclusive, breakthrough products (QuiAri Shake and QuiAri Energy) featuring the world's new #1 superfruit, the Maqui berry, people everywhere are losing weight, boosting their energy levels, and improving their health. What started as an idea has now become a worldwide phenomenon, gaining a passionate following in over 100 countries.
But that's not all! We boast an exciting opportunity to promote QuiAri products and earn commissions within 5 minutes after each sale through industry-first, state-of-the-art payment technology. Combining unrivaled products with the fastest payout, the fastest cycling binary, and one of the highest-paying compensation plans in the industry, there's no doubt QuiAri is helping people live healthier, happier lives. To learn more, please visit quiari.com.
These statements have not been evaluated by the Food and Drug Administration. These products are not intended to diagnose, treat, cure, or prevent any disease. To learn more about QuiAri, their products, and the opportunity to become a Promoter, visit https://quiari.com/en, or follow them on social media @QuiAriOfficial.
Recommended Distributors QuiAri