QuiAri Reveals A Breakthrough Antioxidant Gel Coming Soon
January 7, 2023
By Nicole Dunkley
QuiAri Founder & CEO, Bob Reina promised Promoters and Customers that 2023 was going to be a big year for the company. He wasted no time in making his first big announcement.
On Thursday, January 5, 2023, Bob revealed a new, breakthrough anti-aging product coming soon to the global market – an antioxidant gel that is scheduled to launch in the first quarter of this year. 
"Dr. Juan Hancke, QuiAri's Scientific Advisor and #1 Maqui Berry Expert and I have collaborated again and developed a third never-before-seen nutritional supplement.

It's an exclusive antioxidant gel called QuiAri Prime and contains Maqui Berry, the world's new #1 superfruit, and our proprietary, super-concentrated MaquiX® extract which boosts the antioxidant power of the berry 10 times, and exclusive YouthX Blend.

We're very excited to introduce Prime to the 100+ countries we serve around the world because of its unique ingredients that support and promote anti-aging,"
stated QuiAri Founder & CEO, Bob Reina.
"Rediscover Your Youth. Discover QuiAri." is the theme line for QuiAri Prime, and it reflects the revolutionary science that sets this product far apart from the competition. In fact, many experts are saying it belongs in a category all its own.
QuiAri Prime contains a powerful blend of antioxidants that help supercharge your cells. QuiAri specifically selected a blend of the most nutritionally impactful superfruits with the highest levels of antioxidants.
The ingredients in Prime do more than just nourish the cells in your body. They can actually help repair existing free radical damage and protect your cells against future harm.
"Taking the product can help cells stay healthier, which can reverse the signs of aging, and leaves people looking and feeling their best,"
said Bob Reina.
Prime will be the only product to feature QuiAri's proprietary YouthX Blend – that's a combination of S.O.D, Resveratrol, and Pterostilbene. Scientists have studied the effects of foods rich in these types of polyphenols and found it has positive effects on lifespan and overall health maintenance.
QuiAri's Director of Marketing, Lauren York is part of a select group that has enjoyed the products and has experienced positive results.
"Prime makes me feel even younger. Paired with QuiAri's delicious shake and powerful energy, I can see and feel improvements in my skin. Everyone is asking me what I've been doing differently. 

I also like that it contains no artificial flavors, no artificial colors, and no artificial sweeteners.

It's sweetened from the natural flavors of its superfruit ingredients – Maqui Berry, blueberry, dark cherry, pomegranate, blackberry, and acai. and it's refreshingly delicious.

Prime was formulated to complement the benefits of QuiAri's existing products and it's easy to take when you're on the go,"
said Director of Marketing, Lauren York.                                                        
Everyone is raving about the launch date, which will soon be announced. In the meantime, you can see the reveal of QuiAri Prime for yourself by watching a short video featured on the company's YouTube channel.
"I am extremely confident about the success of QuiAri Prime.  This is a product not found on store shelves.

We have cutting-edge, anti-aging nutritional supplements that can be taken anywhere, anytime, and delivered around the world.

Making it convenient for you to Rediscover Your Youth,"
said QuiAri Founder & CEO, Bob Reina.
QuiAri recommends people tune in to their social media (@QuiAriOfficial), check their email, and attend their weekly live events – Thursdays at 10 AM EST at QuiAriHQ.com for updates regarding Prime.                                                        
To learn more about QuiAri, their products, and the opportunity to become a Promoter, visit https://quiari.com/en, or follow them on social media @QuiAriOfficial.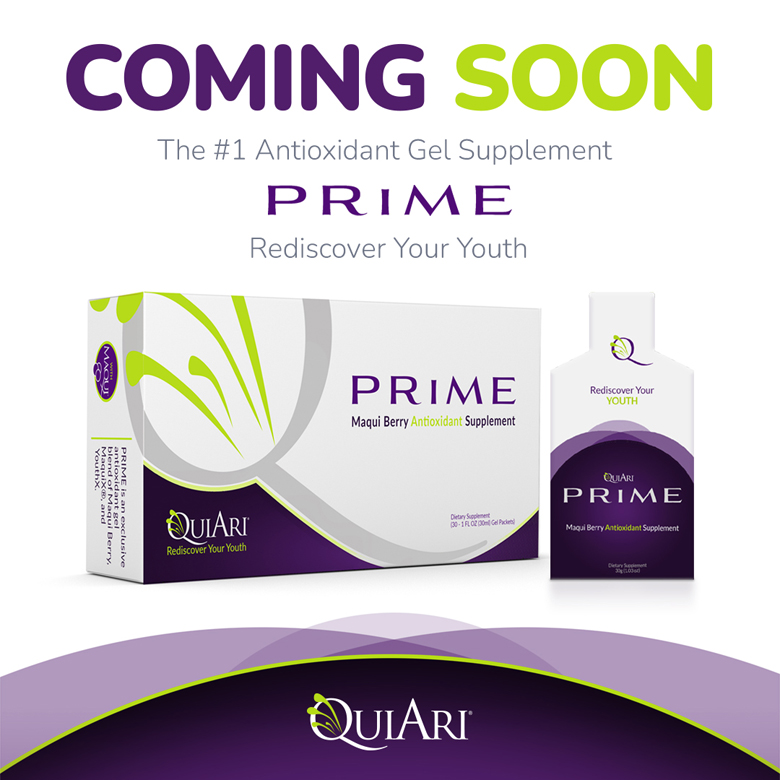 About QuiAri
QuiAri is the #1 health and weight loss movement in the world today. Featuring exclusive, breakthrough products (QuiAri Shake and QuiAri Energy) featuring the world's new #1 superfruit, the Maqui berry, people everywhere are losing weight, boosting their energy levels, and improving their health. What started as an idea has now become a worldwide phenomenon, gaining a passionate following in over 200 countries. But that's not all! We boast an exciting opportunity to promote QuiAri products and earn commissions within 5 minutes after each sale through industry-first, state-of-the-art payment technology. Combining unrivaled products with the fastest payout, the fastest cycling binary, and one of the highest-paying compensation plans in the industry, there's no doubt QuiAri is helping people live healthier, happier lives. To learn more, please visit quiari.com. 
These statements have not been evaluated by the Food and Drug Administration. These products are not intended to diagnose, treat, cure, or prevent any disease.
Income Disclosure Statement
Please note the QuiAri business opportunity offers unlimited income potential. However, QuiAri makes no guarantee of financial success. Success with QuiAri results only from successful sales efforts, which require hard work, diligence, skill, persistence.
Recommended Distributors QuiAri