Rachel Kellogg Helps Beyond Slim Achieve Record Setting Growth
January 17, 2023
By Team Business For Home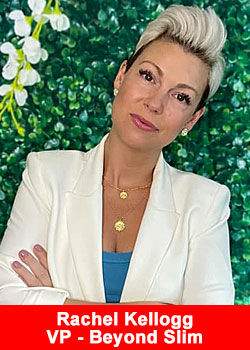 Beyond Slim launched its clinically proven wellness and weight loss product, ZipSlim™ in August 2020. This intentional and strategic decision allowed for the story to tell itself by building credibility through customer testimonials and countless success stories, all because people loved this amazing product.
While some companies choose to launch first, and then try to build an airplane in the air, Beyond Slim built a luxury jet before ever hitting the runway.
They brought Rachel Kellogg on board in June of 2022, ready to take them into flight confidently.

With a decade of experience in the field as a top leader, and extensive experience on the corporate side previously working with small startup companies to ½ billion-dollar international companies, Rachel is already helping Beyond Slim achieve record setting growth.
Without ever hearing of Beyond Slim before the opportunity arose, and with all the other offers already on the table, Beyond Slim was able to catch her attention with an incredible opportunity and amazing product. It didn't take long for Rachel to know that this is where she wanted to be. It was an easy choice for her to make, saying,
"It had every ingredient for success in a gourmet kitchen. It was a sleeping giant, and I could see the vision. This is going to be huge."
Beyond Slim has experienced unprecedented growth since Rachel joined, and the double-digit growth in the early months led to grabbing the attention of some of the industry's top leaders.
By September 2022, three million-dollar leaders had jumped on board and helped take the company from double digit growth to 4th quarter sales that were 5X larger than the record in quarter 3.
This is truly once in a lifetime growth for a company, and they are thrilled to be rolling into the new year with record breaking numbers. The company's CEO, Ray Faltinsky who had a previous billion-dollar company shared,
"I didn't come out of retirement to think small or just create another billion-dollar brand; I came out to make Beyond Slim a multi-billion-dollar company."
Together, Ray, Rachel and the entire Beyond Slim team are a dynamic force taking this industry into a whole new paradigm. And they have the product, infrastructure, and passion to do it.
About Beyond Slim
At Beyond Slim, nothing is more important than our mission to help millions of people become Fitter, Healthier, and Happier. The science behind ZipSlim® speaks for itself, and the care that has been put into our Metabolic Reboot will help you build lasting, healthy habits.
When it came time to decide how best to take this mission to the world, we decided to put people first, innovating an entirely new model we call Social Referral Marketing™. Find out more about Beyond Slim and its amazing product, ZipSlim at www.beyondslim.com
Recommended Distributors Beyond Slim