Top Industry Earner, Tkay Walker Joins QuiAri
January 21, 2023
By Team Business For Home International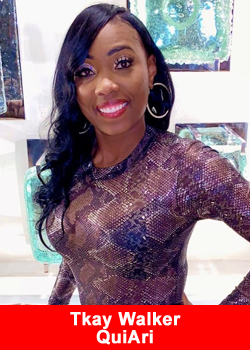 Eight years ago, QuiAri Promoter, Tkay Walker was one of those people struggling to pay their bills. She was a Supervisor in a Call Center and still struggled to make ends meet with two young daughters.
Once she was introduced to Network Marketing, her story began to change. Now she's writing her final chapter as she quickly rises through the ranks at QuiAri. 
"Even working full-time as a Supervisor in a Call Center, I could not pay my bills. I was a single Mom raising 2 young daughters. We were evicted about 7 times and slept in my car or in low-budget hotels when things got really bad. I was angry and frustrated at the way the system worked.

There was no freedom. I worked long hours, had no free time, and had no money. I was letting my children down, and that hurt.  In February 2015, I discovered Network Marketing and realized I didn't have to follow the system to achieve my dreams.

There was another way. I became one of the top earners in the industry and I could spend as much time with my kids as I wanted. Now that I've joined QuiAri, I'm starting to see the next level of freedom.

I'm building a legacy for my family that will ensure my children, grandchildren, and their grandchildren will never have to worry about putting food on the table ever again,"
stated QuiAri Rock Star Promoter, Tkay Walker.
What initially attracted Tkay to QuiAri was their infrastructure, Compensation Plan featuring 5-Minute Pay, and one-of-a-kind products with the world's new #1 superfruit, Maqui. The more she learned about QuiAri, the more inspired and excited she became about her future.
"Getting paid commissions around the world in 5 minutes is enough of a reason to join QuiAri. No other company in the world does it, but I don't know a single Promoter that doesn't need it. I'm extremely protective of my Team. I came to QuiAri looking for a place to help them advance and expand their business globally.

QuiAri is it. Promoters get the rewards of their efforts instantly. There were times in my past when I needed money right away and didn't have it. Founder & CEO, Bob Reina designed the Compensation Plan to be simple, generous, and easy to follow.

I've had no trouble expanding my network ever since joining QuiAri. They have the right leadership in place with over 350 years of combined MLM experience, the #1 products with the #1 superfruit, Maqui, and the momentum of a Fortune 5 company behind them. Plus, with over 121 countries, you have plenty of room to grow your international business quickly,"
said Tkay Walker.
The 'secret sauce' that helped QuiAri become one of the leading brands in the nutrition and anti-aging industry isn't a sauce at all – it's a berry. The Maqui Berry was first discovered by the Mapuche natives of Patagonia, Chile, and was recently re-discovered by scientists for its extraordinary antioxidant power. It can help neutralize the harmful effects free radicals have on your body – and that's just one of the many benefits.
Maqui Promotes and Supports:
A Strengthened Immune System

Skin, Hair, Nails

A Healthy Inflammatory Response

Anti-Aging

Digestion 

Energy 

Ocular (Eye) Health

Heart Health

Brain Health

Sleep

Weight Loss
QuiAri's antioxidant supplements contain a proprietary, super-concentrated MaquiX® extract, which boosts the antioxidant power 10 times. Tkay has been enjoying QuiAri Shake and Energy for over a month now and she has experienced results she never had with other products. 
"I wake up every day at 5 AM craving my delicious QuiAri Shake and powerful Energy tablet. I feel more youthful and energetic than before and it helps curb my appetite.

I'm 41, but I feel like I'm 21 again. The best thing about the products is that I can tell it's working right away. For me, it was day #2 – instant gratification – but that's what happens when your body finally gets the nutrients it craves,"
stated Tkay Walker.
Tkay calls QuiAri her forever home…and she has already been quick to spread the word. She simply follows the system provided in the Purple Diamond Guide, to help teach her how to achieve success.
Tkay, along with all other QuiAri Promoters and Customers around the world, shares excitement about the highly-anticipated NEW PRODUCT. QuiAri's next history-making moment – is the release of a new anti-aging gel called Prime. QuiAri has developed another never-before-seen product featuring Maqui that will be released soon. 
"Prime is currently getting ready for distribution. Once released, it will be our 3rd breakthrough product here at QuiAri.

It's an exclusive antioxidant/anti-aging gel called QuiAri Prime and contains Maqui Berry, the world's new #1 superfruit, and our proprietary, super-concentrated MaquiX® extract which boosts the antioxidant power of the berry 10 times, and exclusive YouthX Blend.

We're tracking demand at Corporate and it is off the charts. 2023 has already started as a huge year for QuiAri. Leaders like Tkay that want to achieve their goals are flocking to QuiAri,"
said QuiAri Founder & CEO, Bob Reina.
Being 100% debt-free is a dream that Tkay has had for a very long time. With QuiAri and her leadership skills, she believes it can come true. She has a hard-working team and an extensive social media following that she can leverage as well as plenty of opportunities for expansion.
"I'm an advocate for single moms all over the world. I recently bought a new house and I've set a goal for myself to pay it off in 5 years or less. Once Prime is released, we're going to see even more explosive growth around the world.

Everyone wants to look and feel younger, including myself. There is a big opportunity to help people get the time and financial freedom they deserve. Plus, I am ready to walk the stage as a Top Earner here at QuiAri,"
said Tkay Walker.
QuiAri Founder & CEO, Bob Reina feels that Tkay has the right mindset and leadership capabilities for success. She is one of many top industry leaders that are discovering QuiAri and what sets it apart from others. 
"Tkay's timing couldn't have been more perfect. There are so many exciting things going on already at QuiAri – 5-Minute Pay, Maqui Berry, MaquiX®, Purple Diamond Guide, Live Trainings, and more.

Plus what's to come – a new product in the distribution stage, photoshoots, Emmy-award-winning film crews flying in and out of Tampa, massive global expansion going on in the Middle East and throughout Asia, global meetings with top industry earners looking for forever homes.

We're moving mountains behind the scenes here at QuiAri. Every day is an adrenaline rush. 2023 is going to be a great year for us. We're reaching major milestones in record speed that often take companies years or decades to achieve,"
stated QuiAri Founder & CEO, Bob Reina.
To learn more about QuiAri, their products, and the opportunity to become a Promoter, visit https://quiari.com/en, or follow them on social media @QuiAriOfficial.
About QuiAri
QuiAri is the #1 health and weight loss movement in the world today. Featuring exclusive, breakthrough products (QuiAri Shake and QuiAri Energy) featuring the world's new #1 superfruit, the Maqui berry, people everywhere are losing weight, boosting their energy levels, and improving their health. What started as an idea has now become a worldwide phenomenon, gaining a passionate following in over 100 countries.
But that's not all! We boast an exciting opportunity to promote QuiAri products and earn commissions within 5 minutes after each sale through industry-first, state-of-the-art payment technology. Combining unrivaled products with the fastest payout, the fastest cycling binary, and one of the highest-paying compensation plans in the industry, there's no doubt QuiAri is helping people live healthier, happier lives. To learn more, please visit quiari.com.
These statements have not been evaluated by the Food and Drug Administration. These products are not intended to diagnose, treat, cure, or prevent any disease.
Recommended Distributors QuiAri