Beyond Slim Sales Are Growing Fast
February 10, 2023
By Team Business For Home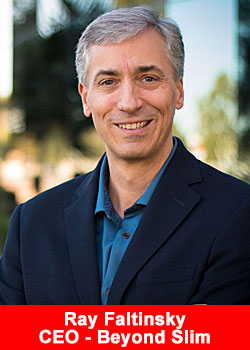 Beyond Slim Enters Early-Stage Momentum
Pre-launched in August 2020, in the middle of the pandemic, Beyond Slim and its revolutionary product ZipSlim, have taken the "Go Slow, to Go Fast" approach in building out its team, infrastructure, and marketing strategy over its first two years.
This approach has paid off in spades, as the company has recently entered the early stages of momentum growing 5 times from:
$200,000 in sales in Q3 2022 to
$1 million in sales in Q4 2022.
Sales in January continued to skyrocket up 17% over December's records sales and as this article is being written,
February 2022 sales are 30% higher than January.
"We have something very, very special with Beyond Slim."
Ray Faltinsky, Founder and CEO of Beyond Slim stated.
"I've been in this industry since 1990 and I've only been a part of this sort of growth one other time.  That time, we went to over $1 Billion in sales over the next 10 years or so and paid out about $500 million in commissions.

We changed so many lives and had a ton of fun. We're going to do that again here with Beyond Slim, but only bigger."
Beyond Slim's flagship product is ZipSlim, a delicious blackberry-lemonade drink mix, that is scientifically validated to help people lose 3 times more weight than diet and exercise alone.  It also has many other clinically validated benefits shown to reduce waist size, increase muscle strength, enhance libido for women and men, reduce stress, improve sleep quality, improve focus and memory and reduce damaging free radicals.
"We call it "Full-circle Wellness" because the key  ingredients in ZipSlim have such an incredible wide-range of benefits that it touches every aspect of your health."
states Dr. Mark Drucker, M.D, who helped create ZipSlim based on his work in Integrative Medicine over the past 25 years.
"I came out of retirement because I believe so strongly in this product and truly believe it can help millions of people become fitter, healthier and happier."
stated Faltinsky.
"I've been a passionate advocate of natural wellness since I was 15 years old and my Mom was healed of a crippling case of osteoporosis through the use of nutritional supplements.

But in all my years in the nutrition space, I've never seen a product that is clinically shown to have such a wide spectrum of benefits for human health and happiness as ZipSlim."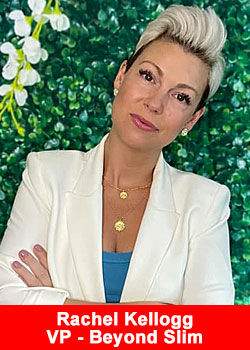 Beyond Slim's VP of Sales Rachel Kellogg says:
"I couldn't believe my eyes when I came across Beyond Slim in May 2022."

They had this incredible product, a truly unique compensation plan where everyone has a real chance at success, a business building app that was awesome and a corporate team in place with over 50 years of experience in direct selling. 

Yet they were still unknown in the direct selling world; like this incredible little secret.  I joined Ray and the team here because I knew if we just got the word out there more, we could have some tremendous success together.

And it's happening now even faster than I thought it would." 
Beyond Slim's compensation plan is so unique that the U. S. Trademark Office granted them a trademark on the term "Social Referral Marketing" so no other company can use it.
"We knew we had to do things differently because the MLM industry has gotten a bad reputation from companies that front-end load distributors with too much product, force them to buy monthly qualifying volumes, don't focus on real customers and only reward the 10% and leave the 90% high and dry. 

We've done the exact opposite with all of that.  No big packs to buy, no monthly purchases required, we focus on real customers and reward both the top 10% and the 90% of our Coaches who are part-time, at unprecedented levels." 
While the average company in direct selling has approximately a 40-42% payout, Beyond Slim's payout has been well over 50% of sales over the last 6 months.
"It's the highest payout I've ever seen in the industry, but we're a virtual company and that keeps our expenses down with no expensive offices to maintain, etc.

So we elect to put that money into our life-changing product and our hard-working Coaches' hands, and at the same time  keep the company healthy and built to last.

We launched Beyond Slim to help millions become fitter, healthier and happier and we are committed to that vision for the long-term."
Beyond Slim's Social Referral Marketing model is resonating with Coaches all over the United States.  "It's really special and the reason we are having this explosive growth!" Faltinsky states, "And we're just getting started."
About Beyond Slim
At Beyond Slim, nothing is more important than our mission to help millions of people become Fitter, Healthier, and Happier. The science behind ZipSlim® speaks for itself, and the care that has been put into our Metabolic Reboot will help you build lasting, healthy habits.
When it came time to decide how best to take this mission to the world, we decided to put people first, innovating an entirely new model we call Social Referral Marketing™. Find out more about Beyond Slim and its amazing product, ZipSlim at www.beyondslim.com
Recommended Distributors Beyond Slim