Former MLM Executive, Mandy Boles Joins QuiAri As A Promoter
February 17, 2023
By Nicole Dunkley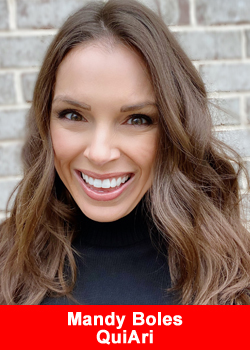 Many Promoters in the Direct Sales industry start at the bottom and work their way up to the top. QuiAri Shooting Star Promoter, Mandy Boles' experience was much more unique.
She started at the very top in 2005, joining the Corporate Teams of several global Network Marketing companies, and left to become a Promoter. 
"I was 23 years old, a young Mom and wife when I got into Direct Sales. I was very lucky to have the opportunity to learn about the industry as a member of the Corporate Team of several different global companies.

After 9 years of preaching and teaching the importance of time and money freedom, I decided to follow my own advice. I went into the Field and was very successful almost immediately. It only took me 5 months to catch up to my old income.

After that, I became a top 200 industry earner. I loved being able to put my family first. I did eventually return to the Corporate side, but when I heard about QuiAri, it was too good of an opportunity to pass up!

QuiAri wasn't just another successful young start-up that lacked direction.  They have all of the ingredients to become a household name. I haven't been a QuiAri Promoter very long and have already climbed up the ranks quickly,"
said QuiAri Promoter, Mandy Boles
Mandy said those 'ingredients' include proprietary products that work and taste delicious, a generous Compensation Plan that pays quickly, and a simple business model that can be easily duplicated.
"Confusion creates inactivity. Inactivity creates failure. Simplicity fosters an environment to create success and sustainability.

QuiAri's Executive Team obviously knows this.

Any experienced Promoter can clearly see the genius design of the Compensation Plan with 7 ways to earn and Purple Diamond Guide, which is a free step-by-step guide for QuiAri Promoters who want to learn how to reach the top rank of Purple Diamond,"
said Mandy Boles.
In addition to a simple Compensation Plan and the Purple Diamond Guide, QuiAri Promoters receive commissions earned within 5 minutes after each sale worldwide. That's an industry first. Mandy said that 5-Minute Pay has created "immediate excitement which is driving more action" amongst her Team.
Promoters that download QuiAri's free mobile app get to hear a "cha-ching" sound effect every time they get paid. She believes that novel ideas, such as 5-Minute Pay, proprietary products, and a fun, rewarding culture are just a few of the many examples of the passion, confidence, and leadership that come from QuiAri Founder & CEO, Bob Reina.
"Bob Reina is an inspiration to everyone at this company. He makes you want to blaze these trails along with him. We all work hard at QuiAri, but Bob makes sure that everyone is handsomely rewarded for their efforts. 

We rise up together, stay focused, and help everyone look and feel their best – all while working towards our dream lifestyle. This is where Bob's experience as a Promoter in the field clearly shaped the way he designed QuiAri.

Promoters are not competing with other Promoters. The people at the top enjoy more success every time they pull someone up from the middle or bottom,"
stated Mandy Boles.
Mandy is laser-focused on her mission to help others and wakes up early every day to begin helping her Team. Although she admits she couldn't do it without QuiAri Shake and Energy. Mandy takes the products every single day and is one of the many experiencing impressive results.
"I was living on coffee, tired all day, struggling to focus, and I never had enough stamina to finish my tasks in the evenings. Since I started enjoying my delicious 'birthday cake batter" Vanilla Shake and powerful Energy tablet, everything has changed.

I'm super focused and have great mental clarity. My productivity is up and I'm staying on top of my daily household chores. At night, I sleep like a baby and wake up feeling ready to take on the day. This is the best I've looked and felt in a really long time. I even got back to my high school weight. I didn't think that was even possible,"
said Mandy Boles.
With the highly anticipated release of Prime, QuiAri's new #1 Anti-Aging Gel Supplement, Mandy will soon have another delicious product to help turn back the clock even further, all while pushing her closer to her dream lifestyle.
"We live in a time where people of all ages are focused on longevity, adding life to their years, and looking and feeling young forever. Prime will help them reach their goals. It's anti-aging from the inside out.

I'm really excited about this new product and my future at QuiAri. There is nothing else like it on the market and it will make a big impact on my business. With only 3 products in QuiAri's product line, this is the best time to be a Promoter.

The not-so-secret ingredient in all QuiAri's antioxidant-fueled supplements is Maqui Berry, the world's new #1 superfruit. It has an unlimited number of potential applications, and QuiAri has found a way to enhance its benefits,"
said Mandy Boles.      
QuiAri Prime will have Maqui Berry and MaquiX®, a proprietary Maqui Berry extract with 10 times the antioxidant power of Maqui alone, as well as a proprietary YouthX blend with ingredients that help repair free radical damage, protect cells against future harm, and help protect against premature aging.  Mandy is very excited about her future at QuiAri, her new forever home, and for the future of her children.
"My 'why' in this business is my children. Creating generational wealth is important, but for me, it's more about serving as a good role model. They see me grinding every day, working hard, and enjoying the benefits of having extra income to live a better life,"
stated Mandy Boles.   
To learn more about QuiAri, their products, and the opportunity to become a Promoter, visit https://quiari.com/en, or follow them on social media @QuiAriOfficial.
About QuiAri
QuiAri is the #1 health and weight loss movement in the world today. Featuring exclusive, breakthrough products (QuiAri Shake and QuiAri Energy) featuring the world's new #1 superfruit, the Maqui berry, people everywhere are losing weight, boosting their energy levels, and improving their health. What started as an idea has now become a worldwide phenomenon, gaining a passionate following in over 100 countries. But that's not all! We boast an exciting opportunity to promote QuiAri products and earn commissions within 5 minutes after each sale through industry-first, state-of-the-art payment technology. Combining unrivaled products with the fastest payout, the fastest cycling binary, and one of the highest-paying compensation plans in the industry, there's no doubt QuiAri is helping people live healthier, happier lives. To learn more, please visit quiari.com.
These statements have not been evaluated by the Food and Drug Administration. These products are not intended to diagnose, treat, cure, or prevent any disease.
Recommended Distributors QuiAri