Three International Appoints Dr. Dan Gubler As CSO
March 7, 2023
By Team Business For Home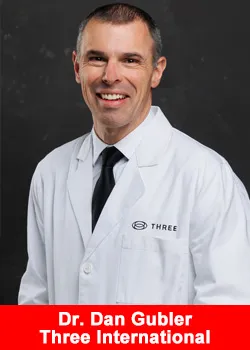 As a Caltech-trained chemist who has traveled to every continent discovering and researching nutrients in plants, Dr. Dan Gubler is an expert on how natural molecules from plants can dramatically improve human health. He's also the Chief Scientific Officer at Three International, or Three, a new direct selling company based out of Lehi, Utah, that pre-launched on February 20.
A strong advocate for utilizing nature's health secrets along with new compounds and novel formulations, Dr. Dan (his signature moniker) says that Three's proactive wellness solutions are created by applying the company's core pillars of science: Exploration, Curation, and Absorption.
"Three provides the most effective proactive wellness products because we deliver nutrients at the cellular level for maximum bioavailability," Dr. Dan says. "Developing life-changing products such as these starts with our first core pillar of exploration."
Exploration
Dr. Dan explains that of the 600,000 species of plants on the earth, less than five percent have been studied for their phytonutrients. Phytonutrients make up the medicinal component of plants. Three's scientists travel the world discovering these new life-sustaining phytonutrients, which are then skillfully curated.
Curation
During Three's curation process, hundreds of exclusive phytonutrients are combined in innovative formulations targeted to "supercharge" health.
"Each of our products are developed over numerous iterations and are subject to rigorous testing and redevelopment until the formula is just right," Dr. Dan states. "Once we are satisfied, we focus on absorption—the key to bioavailability."
Absorption
More and more, consumers are understanding that the most powerful nutrients on the planet don't provide an ounce of good unless they are absorbed into the cell. Three solves this problem by developing new Cellular Absorption Technologies to deliver nutrients deep into the cell for maximum wellness and bioavailability.
"You could say that caring for your body with a product from Three is like getting a one-of-a-kind tailored meal by a Michelin Star chef," Dr. Dan asserts. "With these core pillars guiding us in developing the world's most bioavailable products, Three's proactive wellness products deliver greater health to people all around the world."
At a Glance: Dr. Dan Gubler, Three Chief Scientific Officer
Caltech-trained
D. in organic chemistry
16 patents granted or pending
Widely published in peer-reviewed journals
Formulated over 70 nutritional supplements
15 years of cellular absorption formulation experience
Host of Top 50 nutrition podcast "Discover with Dr. Dan: The Proactive Health Podcast"
Multiple award winner (DSA Visionary Award, Schering-Plough Science and Innovation Award, American Cancer Society Fellowship, Eli Lilly Fellowship)
 About Three International
Three is a direct sales company based in Lehi, Utah. As the global leader in bioavailable wellness products, we believe in the power of purpose. Three's innovative formulas are specially designed to create demonstrable results through maximizing bioavailability and cellular absorption.
Our caring and vibrant community inspires and leads through the power of people, platform, and purpose. For more information about Three, the Proactive Wellness Company, visit iii.earth. Follow Three on Facebook, Instagram, and TikTok.
Recommended Distributors THREE