Top Leader Eric Clerc Joins Greenway Global
March 6, 2023
By Team Business For Home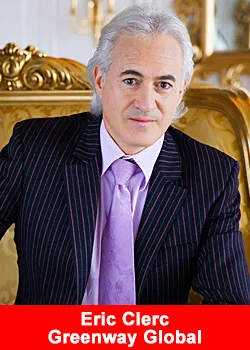 Top earner and top leader, coach, and author of the bestselling book "The Solution", Eric Clerc joins Greenway Global.
Eric Clerc has been a Diamond in the company Jeunesse those last years. Eric has devoted his entire career to training people at seminars and major events. This is how, over the years, he has allowed an international audience to participate in his training courses in which he shared his passion and his experience.
A story, a choice, and much more than a job, a mission that would be akin to exploring, knowing, and sharing paths to success.
He says:
"I have only followed my aspirations. I am committed to helping those who, like me before, are looking for a solution to achieve a better lifestyle."
His network marketing career began in 1991 in France, continued in Italy and finally reached its peak in Russia. It was from there that he developed an organization of more than 350,000 people across all the countries of the former Soviet Union.
The teams he created have generated a cumulative total revenue of over $1 billion.
Having reached the highest qualifications, he became vice-president of different companies, then co-owner of an MLM company. He is recognized in the MLM industry for enabling thousands of people to achieve life goals.
"He has the art of inspiring you to the point that there seems to be no obstacle to your personal success"  said one of his leaders.
Eric stated:
"Having lost faith in the partner company in which I invested 6 years of my life, I obviously could no longer be consistent with the actions that our job requests.

So, I decided to evaluate different proposals and among these, the project presented by Greenway Global in its international development, particularly in Europe, the USA, Latin America, CIS, Vietnam, literally seduced me."
The enormous potential for development in markets that are already open and the fast and agile response to ensure international expansion, particularly in the start-up of new markets such as Morocco, Albania and Argentina largely contributed to validate my decision.
The exceptional growth of this company, achieved outside the current "standards" of our profession (no high-priced starter packs, no virtual products, no contracts to attract leaders, no unfair binary plan) led me to make a deep analysis of its concept, adapted to new markets but also to markets in which the company is already strongly established".
I also greatly appreciate and respect the team in charge of international development, recognized as professionals in our industry who work in a real idea of partnership and exchange with leaders in the field and agility to make decisions and to act quickly.
I personally know the Vice-President and Co-Founder Dany Laroque, and the President-Founder Leonid Morgunov, for more than 20 years and I know that they are an embodiment of the values in which I strongly believe since the beginning of my career.

Ethics, ecology, respect for those who really do the work, passion for the best job in the world.
My professional analysis of all the important aspects of this company leads me to the conclusion that we will bring it to more than 2 billion in the next 5 years.
The perspectives are gigantic and the greater our success, the more we will contribute to a cleaner planet, this too is a value that I learned as a scout, and which is important to my heart.
About Greenway Global
Greenway Global, a green MLM company, has become within 6 years, one of the most famous in the network marketing industry known as the fastest growing company in its country: over 2 million partners worldwide, 53 countries of operation and 200 eco-markets today, with over 550 products for health, beauty, and home care.
The company's environmental projects have a worldwide scale – every month Greenway Global provides material and physical support to organizations dedicated to saving our flora and fauna. Greenway Global is the talk of the world's media, and the company's name is already firmly associated with concern for the ecology of our planet. For more information please visit www.mygreenway.com