Top Leader Miriam Chilante From Italy Joins Impact Global
March 24, 2023
By Team Business For Home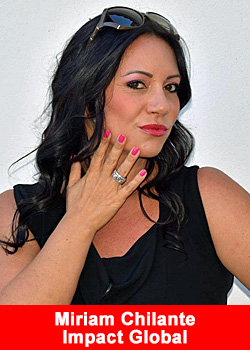 Impact Global, a new network marketing company, is proud to welcome Miriam Chilante to its team. As a renowned network marketing leader in Italy, Miriam brings a wealth of experience and knowledge to the table, having helped hundreds of professionals achieve success through strategic monetization and business idea creation.
Miriam has built an extensive international network of professionals in just a few years, thanks to the training she provides to her entire team. Her program is available in five different languages, promoting global growth and business internationalization.
Through her training, Miriam equips her team with essential skills to enhance profitability and ensure longevity, including sales techniques, effective communication, leadership, public speaking, and social media mastery.
In a rapidly evolving marketplace, customer needs are changing, and the new generation of networkers demands a global strategy that stays up-to-date with marketplace trends, offers desirable products, and provides tangible economic results. Miriam recognizes that passion and drive are essential, but it's even more critical to offer products that provide solutions to unanswered marketplace questions to stay intrinsically motivated.
"At Impact Global, our passion is empowering individuals to unlock their full potential and become the best version of themselves. We are thrilled to join forces with an exceptional leader like Miriam to achieve extraordinary things together. As we continue to expand globally, we are delighted to forge new partnerships along the way.

While growth is exhilarating, the ability to grow alongside like-minded individuals who share our values and vision is truly something remarkable."
stated Luigi Di Salvo, CSO
To succeed in this business, individuals must be hungry for success and know exactly what they want. Managing fluctuating emotional states is one of the biggest challenges, requiring a consistent and stoic level of discipline. Impact Global provides the training to develop these key characteristics, enabling individuals to achieve their desired goals.
Miriam chose Impact Global for its clarity, strength, and clear mission. The company offers a compensation plan that rewards leaders and individuals who take a leap of faith, trusting that Impact Global is paving a new path in the industry. With a changing landscape in network marketing, people are ready for significant changes and new goals. Impact Global offers the freedom to choose and the opportunity to embark on a new adventure and accept a great challenge.
Miriam and her team are excited to be part of this revolutionary movement. When asked about why she chose Impact Global, Miriam says:
"The strength of Impact Global lies in its clarity. The clarity of its mission immediately captured our attention, and we recognized its great potential. While being the first to enter a market comes with significant responsibility, commitment, and dedication, it is these challenges that make life fulfilling.

I am excited about the future ahead and look forward to being part of a team that is making a difference in the world by empowering countless individuals to achieve their dreams and aspirations. "
About Impact Global
Impact Global Lifestyle LLC is a privately-owned network marketing company based in Salt Lake City, Utah, that is revolutionizing the industry with its fresh and innovative approach. By offering a multi-vertical approach that includes both digital and physical products, the company provides a comprehensive solution for entrepreneurs globally.
The product offerings include an online education platform, luxury lifestyle services, premium wellness, skincare products, and a compensation plan that is unmatched in the industry. Impact Global's mission is to create a purpose-built brand that positively disrupts the network marketing industry by empowering individuals with effective products and a movement that makes it easy to fall in love with. For more information please visit www.impactglobal.com