When It Comes To Bioavailability, Three Leads The Way
March 23, 2023
By Team Business For Home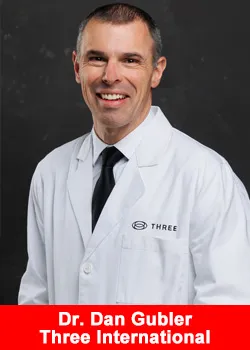 Bioavailability is a crucial factor to consider when it comes to consuming nutritional supplements. In simple terms, bioavailability determines how much of a nutrient can be effectively utilized by your body. It plays a significant role in ensuring that you get all the essential nutrients required for optimal health.
"There are several reasons why bioavailability is important in nutritional supplements," says Dr. Dan Gubler, Chief Scientific Officer at Three International.

"Bioavailability essentially ensures that the body can efficiently absorb and utilize nutrients. The reason we take supplements to begin with is to make up for the nutrients we may be missing in our diets. However, if the supplements we take have low bioavailability, our bodies won't absorb enough of the essential nutrients it needs."
Dr. Dan goes on to explain that many consumers don't realize that taking nutritional supplements with low bioavailability can also result in high concentrations of molecules localized in organs like the liver and kidneys. This may lead to adverse side effects such as toxicity. However, supplements with high bioavailability are absorbed efficiently by the body into the cell, reducing the risk of toxicity and other adverse side effects.
Conversely, supplements with high bioavailability can lead to improved health outcomes. For instance, calcium supplements with high bioavailability have been shown to increase bone mineral density whereas those with low bioavailability have been shown to result in the calcification of arteries due to poor absorption.
Iron supplements with high bioavailability can prevent iron-deficiency conditions that can lead to fatigue and other health problems. In this way, supplements with high bioavailability are essential to creating desired health benefits and long-term results.
Enhanced nutrient transport systems are vital to optimizing supplement bioavailability. That's what makes Three's proactive wellness supplements stand out from others on store shelves and in online marketplaces.
Formulated with cutting-edge Cellular Absorption Technologies that use liposomes, enzymes, adjuvants, and other methods to enhance nutrient absorption, Three supplements are highly bioavailable and can be transported effectively to the cells that require them.
"Bioavailability is essential in ensuring that nutritional supplements can effectively meet the body's needs. Here at Three, we are leading the way in discovering new ways to provide this type of nutrient absorption."
Dr Dan says. 
About Three International
Three is a direct sales company based in Lehi, Utah. As the global leader in bioavailable wellness products, we believe in the power of purpose. Three's innovative formulas are specially designed to create demonstrable results through maximizing bioavailability and cellular absorption.
Our caring and vibrant community inspires and leads through the power of people, platform, and purpose. For more information about Three, the Proactive Wellness Company, visit iii.earth. Follow Three on Facebook, Instagram, and TikTok.
Recommended Distributors THREE